Editor's Note: The Times Record/Roane County Reporter has nearly always garnered its share of press awards for weekly newspaper publishing, and now its editor will head the West Virginia Press Association.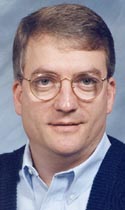 David Hedges, publisher of The Times Record and Roane County Reporter, was elected president of the W.Va. Press Association at the group's annual membership meeting Saturday at Canaan Valley Resort State Park.
Also elected were David Zinn of Charleston Newspapers and Sandy Buzzerd of The Morgan Messenger as vice presidents and Frank Spicer, publisher of the W.Va. Daily News in Lewisburg, as secretary/treasurer.
Hedges follows Frank Wood, publisher of The Register-Herald in Beckley, who served as president of the organization last year.
Wood remains on the board of directors for the coming year as past president along with other directors Michael Christman Jr. of The Parkersburg News and Sentinel, David Corcoran Sr. of the Glenville Democrat, Ed Dockney Jr. of the Spirit of Jefferson Advocate, Kim Gemondo of The Shinnston News & Harrison County Journal, Ed Given of the Braxton Citizens-News, Sandra Hurley of the Williamson Daily News, Leslie Hurst of the Huntington Herald-Dispatch, Pam Pritt of the Pocahontas Times and Don Smith of the Elkins Inter-Mountain.