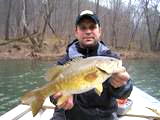 By Cory Boothe
Coryboothe@hotmail.com

A 17.31 pound rainbow trout was landed in a private pond by Tony Corbin of Gerrardstown (see photo below). This Berkeley County fish replaces a 16.65 pound rainbow caught in a private pond in Monroe County in 2005. The fish was 30.5 inches long and caught with a swimbait on ten pound test.

Many of the discussions I've heard center around a belief that the fish shouldn't count as a state record because it came from a private pond. I fully disagree with this. Just because you have a private pond doesn't mean you can grow a state record. If growing a state record fish was that easy, then anybody with a private pond would have one.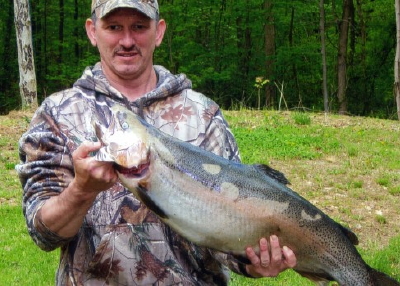 Some people say its unfair because not everyone has access to the fish. Well, not everyone has access to many places. If you don't have a bass boat, you don't have access to most of our lakes. If you don't have a raft, you don't have access to the New River to float. Fishermen of Calhoun don't have access to trout without a substantial drive and all of this is ok. It is my belief that people worry too much about everything under the sun being 100% fair and equal opportunity and that's just not the real world.
For reference, the state record bluegill, bass, and carp all came from a private pond. A previous state record trout was caught at Stonecoal Lake. That lake is stocked by the Stonecoal Fishing Association through Bingo Money. The state record golden and brook are both stockers. Fellow fishermen, a stocker is a stocker. Doesn't matter if it came from the concrete raceways of Bowden Fish hatchery or a quarry pond in Berkeley County.