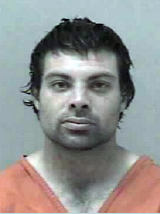 A 30-year-old Grantsville man has been arrested on a child abuse charge related to him giving what a criminal complaint says was a pill to a 10-year-old boy.

The youth was taken to Minnie Hamilton Health System after his mother, Stacy Hickman, indicated the youth was disoriented and vomiting. The youth was sent to a Charleston hospital for further treatment.

Jerry Dwight Hess, Jr. was arrested by Grantsville Police Chief Andy Walker, and he is in Central Regional Jail with bail posted at $70,000.

The complaint indicates Hess gave the boy a motion sickness pill, the youth told the officer that Hess gave him the pill "because he wanted to see how I acted."

Hess, the affected youth and another boy were fishing in the river, with the consent of the parents, according to the complaint.

Chief Walker searched the house where Hess was living and discovered two bottles of Equate motion sickness pills, one unopened.