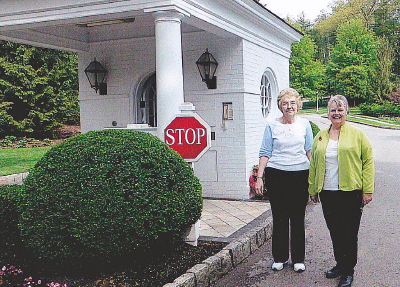 Martha Harris (R) and Carolyn Gragg at the Greenbrier

Local quilter Martha J. Harris constructed two of the quilt blocks featured in the Greenbrier Valley Theatre production of "Quilters" a musical based on the book The Quilters: Women and Domestic Art by Patricia Cooper.

It is a story of a pioneer woman, Sarah, and six women, who are her daughters, facing frontier life. Rather than a straightforward storyline, the musical is presented as a series' of short tales and quilt blocks matched with musical numbers, each presenting an aspect of frontier life or womanhood.

The quilt blocks are ultimately put together to create a dynamic and profound patchwork. The blocks featured were "Crosses and Losses" and Baby's Block," they were new patterns for Martha to make but she said she enjoyed the challenge.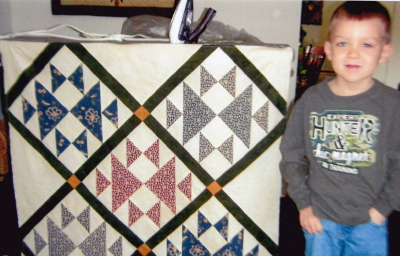 Martha's grandson, Wade McIntyre with
quilt block 'Crosses & Losses' in the making
Martha, Carolyn Gragg and Christy Sharp attended the musical Friday evening May 17. After the show, there was time for questions and answers with the show's production team and the cast. Martha received special thanks for contributing her time and talent for making the quilt blocks. She was asked several questions about how she was chosen for making the blocks, the patterns of the blocks, where she lives and her visit to Lewisburg.
Martha and Carolyn were guests of The Greenbrier at White Sulphur Springs WV and The General Lewis Inn, Lewisburg WV. While there they spent time buying quilt supplies, shopping, sighting-seeing and enjoying fine foods.
Martha represented Calhoun County in making a quilt block for WV Division of Culture and History for their WV Statehood Sesquicentennial Quilt.
She has quilted for Project Linus, Quilt of Valor, Wirt Co. school fundraiser, and the Civil War Sampler for Blennerhassett Museum of Regional History.
"I quilt with a small group of wonderful women, we are the 'Unbreakable Threads' quilting group. For us quilting is so much more than fabric, thread, tools, it is our 'life metaphor'. We encourage one another to finish what we start, offer advise (if asked) and celebrate the good, bad, ugly and everything in between," Martha said.
Martha says, "I have attended many classes and workshops by National Quilting Association, American Quilter's Society, WV Quilt Guild, 2012 Quilt Camp and WV Division of Culture to better myself at my beloved craft."