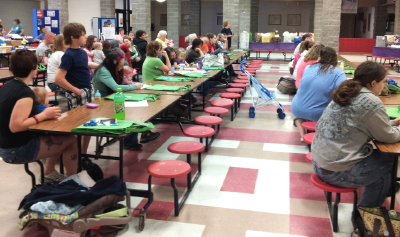 By Barbara McKown
The Calhoun County Family Resource Network held its annual Community Baby Shower May 11 with 23 families in attendance.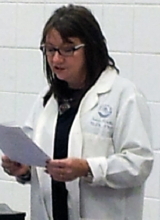 After a quick ice breaker game, guest speaker Teresa Ritchie (right) DNP, FNP-BC from Minnie Hamilton Health System discussed several infant and child safety tips.
Participants then took time out to visit the vendor tables where they were provided with educational materials and free items. Vendors included, Project Linus, UniCare, Coventry Cares of WV, WIC, Choices Child Care R & R, Workforce, WV Birth to Three, Friends of Minnie Hamilton, Domestic Abuse Response Team, Tobacco Prevention, Oral Health Education, Minnie Hamilton Health System and Calhoun County Family Resource Network.
Participants enjoyed cake provided by the WV Birth to Three program and punch provided by the Friends of Minnie Hamilton. After one more game to bring everyone back together, door prizes were awarded with each family winning at least one door prize.
Throughout the Baby Shower participants were able to have their car seats checked or new ones installed, a service provided by the WV Governor's Highway Safety Program. A special thank you to Burl and Jean Simers and Toni Tiano for providing this service.
The Calhoun County Family Resource Network would like to thank all who assisted in making the annual Community Baby Shower a big success.