Submitted by Thresa Liles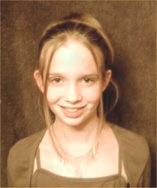 Nicolette (Niki) Liles of Grantsville, Daughter of Thresa Liles, Grantsville, WV and David Liles, Delphos, OH, has been selected as a finalist in the Pre-Teen West Virginia Scholarship and Recognition Program to be held August 31- September 2 at the Charleston House in Charleston, West Virginia.
Pre-Teen West Virginia is a by-invitation only Scholarship and Recognition event involving young ladies 7 to 12 years of age based on their school academic records, awards and honors won and/or their participation in outside activities. Additionally, young ladies are invited who have been recognized publicly for their outstanding personal achievements, volunteer service, school involvement, leadership abilities or creative talents.
State Finalists will be evaluated on Academic Achievement; Volunteer Service to Community; School Honors and Activities; Development of Personal Skills and Abilities; General Knowledge Ability; Communicative Ability and On-Stage Acknowledgment of Accomplishments.
Pre-Teen West Virginia will award more than $5,000 in educational bonds, prizes and awards.
Niki is very grateful to the following sponsors who have enabled her to attend this very prestigious state event:
Koffee Kup Restaurant, Red Clay Press, Grantsville Hotel, Smith Auto Repair, Stump Funeral Home, Reeds Store, P & L Diner, Family Dollar, Dollar General and the many generous individuals and businesses in Calhoun County that showed their support.
Niki is entering the sixth grade at Calhoun Middle School and is in her second year of Girl Scouting in the Black Diamond Girl Scout Troop # 4132. She is a Guard at the Brooksville Awana's, where she has attended for three years. She is also a member of Dance Team A at Heartwood in the Hills, where she is going into her fifth year of Ballet and Theater Dance.