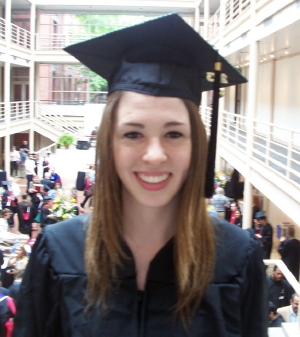 Jessica Cosgrove received a Bachelor of Fine Arts in Theater Arts, with a minor in Creative Writing at the University of the Arts 135th Commencement Ceremony in Philadelphia, on Thursday, May 16th, 2013.
The University of the Arts (UArts) is one of the nation's only universities dedicated to conservatory style training in the visual and performing arts, while simultaneously maintaining a strong focus on liberal arts.
At UArts's College of Performing Arts Awards Ceremony on May 15th, Cosgrove received the Terruso Combat Award from the Brind School of Acting to help defray cost at the International Stunt School in Seattle, Washington.
Cosgrove has continuously studied stage combat since 2009, and has been certified by the Society of American Fight Directors in unarmed, knife, rapier, dagger, broadsword, smallsword, saber, quarterstaff, and sword/shield combat. She passed her last Skills Proficiency Test on May 4th with four recommended passes, a tremendous achievement.
She also received the "Resident Advisor of The Year" award for her work in counseling residents, responding to medical emergencies, handling of discipline situations and creating a warm and welcoming atmosphere for residents of her dorm.
Cosgrove is a 2009 graduate of Calhoun County High School. Her future plans include playwriting, travel, and training in stunts and freerunning.