(Front L-R) Reggie Grimmett, Austin Grimmett, Kia Sleesman,
Kenzie Nester, Shawna Nester, Tammy Sleesman; (Center L-R)
Delegate Anna Border, Kimberly Richards, Lisa Cooper, Pam
Wndelken, Misty Board, Leslie Lowe, Reva Wayne, Senator Donna
Boley; (Back L-R) David Hoge (WVDMAPS), Matthew Richards,
Bruce Wendelken, Harry "Chip" Shaver, Darlene Enoch, Tim Young,
Mike Shook (WVDHSEM), Chris Chiles (Senator Manchin's Office)
Elizabeth, W.Va. - The Wirt County Community Emergency Response Team (CERT) welcomed 17 new members after they completed the CERT Basic Training Course, May 14, 2013 at the Elizabeth/Wirt Volunteer Fire Department.
The CERT Program educates people about disaster preparedness for hazards that may impact their area and trains them in basic disaster response skills, such as fire safety, light search and rescue, team organization, and disaster medical operations. Using the training learned in the classroom and during exercises, CERT members can assist others in their neighborhood or workplace following an event when professional responders are not immediately available to help. Started by the Los Angeles City Fire Department (LAFD) in 1985, CERT has been adopted and expanded by the Federal Emergency Management Agency (FEMA), the Emergency Management Institute (EMI), and National Fire Academy (NFA) to over 1,700 communities throughout the United States.
Wirt County CERT is an affiliate of the larger Mid-Ohio Valley CERT program, spearheaded by the Mid-Ohio Valley Health Department. Wirt County CERT meets once per month, with many more opportunities for training throughout the Mid-Ohio Valley also available.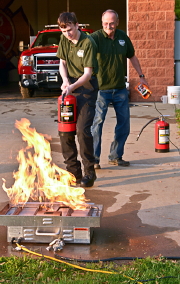 (Left) Ethan Wriston and Brian Wiacek show new CERT members the proper method to approach and put out a small fire utilizing a fire extinguisher.
"We had a very successful class in April and May, and along with members of our 2011 and 2012 classes, we now have 42 total CERT members active in Wirt County", states Wirt County Chapter Leader and Office of Emergency Services Director Bo Wriston. "Wirt County CERT is here to promote public safety preparedness, enabling us as team members to have the proper training, skills, and knowledge to help our families, friends, and neighbors during emergencies either small or large.
"Last year during the derecho event, Wirt County CERT members helped hand out water, ice and food supplies at distribution points, facilitated home deliveries to outlying areas, checked on their neighbors, and assisted local government with clerical and administrative responsibilities. Throughout the Mid-Ohio Valley, CERT members spent more than 1,600 hours during the derecho volunteering. In all of 2012, Mid-Ohio Valley CERT members spent over 8,000 hours in classes, doing public outreach, and volunteering.
During the graduation ceremony, Wirt County CERT was recognized by a special proclamation by West Virginia Secretary of State Natalie Tennant, and each CERT member received a Certificate of Recognition from West Virginia Governor Earl Ray Tomblin. VIP's for the event included Senator Donna Boley, Delegate Anna Border-Sheppard, Chris Chiles with Senator Manchin's office, David Hoge with West Virginia Department of Military Affairs and Public Safety (WVDMAPS), and Mike Shook with West Virginia Department of Homeland Security and Emergency Management (WVDHSEM) Region 1 Liaison.
After graduation, CERT members participated in fire extinguisher training, learning how to combat small fires with extinguishers. Wirt County CERT plans to have another class in September of 2013. For further information on CERT and to register for the free CERT Basic Training Course, contact Wirt County Office of Emergency Services Director Bo Wriston at 304-629-3735, or via email at wirtcooes@gmail.com