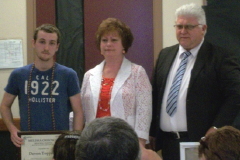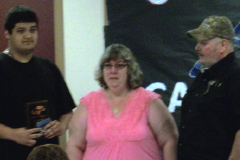 (Left) Devon Toppings, pictured with John and Sue Oshoway.
Devon is the 2013 recipient of the Melissa Oshoway Memorial
Criminal Justice Scholarship; (Right) Nick Garcia, with
Michael and Jean Whipkey. Nick is the 2013 recipient of the
Michael P. Whipkey Memorial Automotive Scholarship
Senior Appreciation Day was held at Calhoun-Gilmer Career Center on May 9th.
Mercy Roberts received the 2013 Earl J. Gainer Technical Student of the Year. The recipient of this award exemplifies the career and technical student that excels in his or her program.
Ronald Blankenship Student Achievement Award recipients were, Mercy Roberts, Angela Young, Alexandra Taylor, Brett Rinehard, and Jamie Frederick. These students scored Gold level certificates on their Work Keys Assessments at the CGCC.
National Technical Honor Society Senior recipients were, Mercy Roberts, Jamie Frederick, Alexandra Taylor, Justin Mowery, Melody Lowther. The recipient of this honor exemplified good attendance, high academic achievement, leadership, service, and dependability while enrolled at the CGCC.
Other Seniors recognized during the event were:
Alternative Learning Center Students - Ray Atkinson, Austin Satterfiled, Ethan Chadwekk, Joe Krugle, Lisa Bennett, Skylar Jackson, Angela Young, Tessa Greathouse, Michael Hunt, Brett Rinehart, Richard Dorsey, Chase Smarr, Josh Krugle, Justin Shiflet, and Alexa Richards.
Business - Courtney Conrad, Holly Bourne, Guin Beirne, Samantha Yoak, Candace Conrad, Brooklyn Manns, Marissa May, Skylar Jackson, Katie Collins.
Networking Technology - Justin Mowery and Alex Taylor
Welding Technology - Ray Atkinson, Jeremiah Allen, Cole Vineyard, Richard Dorsey, Brandon Riley, Nathan Rush, Alex Perrin, Michael Hunt, Caleb Snider.
Health Occupations - Jamie Frederick, Angela Young, Tessa Greathouse, Jessica McCumbers, Shawna Falls, Belinda Summers, Mercy Roberts.
Criminal Justice - Rick Allen, Lisa Bennett, Laura Conant, Joe Krugle, Jordan Metheney, Kayla Heater, Amanda Jenkins, Courtney McCormick, Alexa Richards, Luke Moore, Clarissa Price, Devon Toppings.
ProStart - Sydney Galinsky, Brittany Hannah, Maryah Marks, Brett Rinehart, Josh Krugle, Jenna Elzroth, Melody Lowther.
Building Construction - Jacob Lindsay, Chase Smarr, Justin Shiflet, Alex Perrin, Jesse Richards, Colton Yeager, Austin Satterfield, Steven Richards.
Automotive Technology - Cody Kautz, Cody Helmick, Ethan Chadwell, Justin Hulse, Jacob Shreves, Nick Garcia, Shawn Talbert, James Snyder (instructor), Nick Lambros.