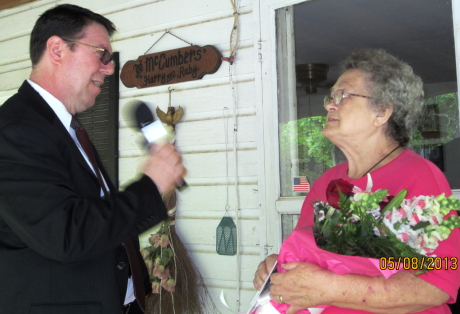 Les Patterson of WTAP-TV surprises Ruby
McCumbers at her Wirt County home
Ruby Tucker McCumbers was pleasantly surprised Wednesday morning when a TV reporter and camera crew pulled up in front of her home on Crane's Nest Run, located near Pee Wee.
Les Patterson of WTAP told Ruby, "You have been nominated by your daughter, Nancy, to be "Mom of the Month" this month.
Congratulations! How do you feel?" "Well, I am surprised, really!" Ruby responded. Les then presented her with a special Mother's Day Gift provided by McAlarney Pools of Parkersburg and a beautiful bouquet of flowers consisting of star-gazer lilies, pink mums, red roses and a beautiful ensemble of other gorgeous flowers provided by Crown Florals of Parkersburg.
Ruby received this honor because her daughter, Nancy, says she is very special, has raised six kids, has 10 grandchildren and 11 great grandchildren and everyone loves her including family friends and the community she has called home for 55 years.
When asked what was the most challenging thing about being a mom, she responded with, "raising six children, taking care of them, making sure they had plenty to eat, went to school, and stayed out of trouble." After that comment, WTAP Anchor, John Fortney, responded with, "I bet she is a great cook still!" And she most certainly is - as 35-40 people will testify to, after partaking in a family holiday meal at the cozy little farmhouse.
Ruby is the mother of Dean, Larry, Judy, Jim, Peggy and Nancy.