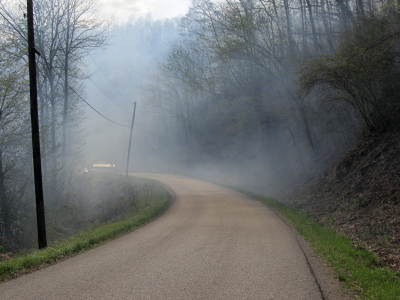 Heavy smoke swept across Yellow Creek road
from another forest fire Thursday afternoon
A forest fire erupted Thursday afternoon on Yellow Creek on a hill near the Buckeye Oil Company, not far from last week's fire that burned 200 acres.
Reports said 60-70 acres burned.
The cause of the fire was not known, but a regional forester was on scene.
The Grantsville VFD and firemen from Elizabeth-Wirt and the Smithville VFDs responded at 3:56 p.m.
The Yellow Creek area received little rain from a storm that swept over the county late Tuesday night.
Firemen said the fire was over 90% contained at 7 p.m. and cleared the scene about 9 p.m. The fire rekindled about 10 p.m. and firemen were returning to the scene.
The Grantsville VFD assisted the Smithville VFD with a forest fire at 2:20 p.m. just south of Smithville, a short distance from Rt. 16. That fire was rather quickly contained.
The risk of forest fires remains very high in most parts of West Virginia.