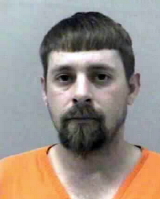 Calhoun authorities have arrested a Roane County man and charged him with multiple counts related to meth-making.

Zebadiah Noyes Hamrick 33, is in Central Regional Jail, with bail set at $50,000.

Among those charges, exposure of meth manufacturing to a child, and exposure of a first responder to meth manufacturing.

Hamrick was arrested in Roane County in March for an alleged meth operation located under a tarp just along US 33-119 near the Corder Bridge, the Calhoun-Roane line.

See UPDATE: ROANE MAN CHARGED OVER ALLEGED METH OPERATION - Police Discover Lab Under Tarp

Hamrick's latest charge is related to multiple arrests following the discovery of a meth operation on Honeysuckle Lane on Sinking Springs in August, 2012.

The Calhoun Sheriff's Department arrested Matthew Jefferys and Andrea Simmons in the same incident, during a well-being check by Children Protective Services.

See UPDATE:CALHOUN RESIDENTS ARRESTED ON METH CHARGES - Children Exposed To Chemical, Officers Found 'Complete Lab'

The criminal complaint says a fourth person, Deanna Nelson, was present at the site prior to the discovery of the meth lab. Nelson has yet to be charged.

Roane County authorities have arrested a Calhoun man on possession and delivery charges, after he allegedly sold Adderall to an informant, according to a criminal complaint.

Dennis Wayne Bailey, 19, of Country Lanes, allegedly sold the drug at the Southern States parking lot.

Also arrested on the same charges, Justin A. Lyons, 21, of Spencer. He was incarcerated in Central Regional Jail, bail set at $40,000.

Bailey was released on $20,000 bond set by Magistrate Ron White.

Both will appear for a preliminary hearing.