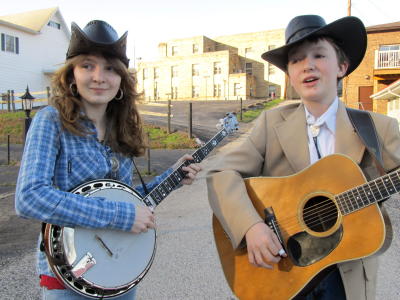 Marteka and William perform old-time bluegrass
A Webster County brother and sister, Marteka Lake, 15, and William Lake, 13, are making a name for themselves in country music, appearing on Wheeling's WWVA Jamboree and popular PBS-TV music show, "Woodsongs," among many other venues.
The will be appearing Saturday afternoon on the Wood Fest's main stage.
They appeared earlier at the monthly West Virginia Bluegrass Alliance event in Grantsville, performing in the Flatt and Scruggs music-making style.
"They were hooked on bluegrass the first time they heard Lester Flatt and Earl Scruggs, said their mother.
"William had always wanted a guitar since since he was little. We just never got him one, because we thought he would have a hard time learning to play. To our surprise, in just a few hours of picking up a guitar, learned a lot of chords and everything came quickly for him."
Marteka picked up her daddy's old Gibson banjo, and picked it up quickly.
It was a short time they started just making guest appearances close to home, they began to sing. After one-and-one-half years they issued their first CD in May, 2012.
Now they have headlined shows to a packed house.
They made an appearance on Wheeling Jamboree with Buddy Griffin in January and then were asked to go to Lexington, KY in February to perform on Woodsongs Old Time Radio Hour, with JD Crowe, which will be airing on PBS.
"They are getting calls from festivals, bluegrass venues, and several other places," says their mother.
They have already accumulated a large fan base of wonderful people with whom they keep in touch, and always take time after their shows to meet and greet the audience, sign autographs, and sell CDs. Their dream in life is to one day stand on the same stage that their idols Lester Flatt and Earl Scruggs stood, "The Grand Old Opry".
The family is grateful to Buddy Griffin for his professional advice and help.
and all the help he has given Marteka and William. "He is a true and dear friend of ours," the family said.
To purchase their CD send $10 dollars plus $2 S/H to:
Marteka and William Lake
62 River Breeze Rd
Hacker Valley, WV 26222