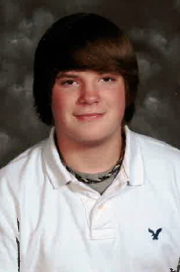 Luke Sheldon, a sophomore at Calhoun County High School, has received an invitation to attend the National Young Leaders Conference in Washington D.C. July 28 through August 10.

The conference is offered by the Congressional Youth Leadership Council and includes visits and interactions with many parts of our federal government. The students who attend also participate in a mock government of their own to get a feel for what it is like to run the country.

The goals are to educate them about our government, build their already proven leadership skills and challenge their critical thinking by exposing them the multi-faceted issues that face our country today. He will also get the opportunity to tour three of the top colleges in the nation. This conference will allow the attendees to earn two college credits from George Mason University.

Sheldon is the son of Lisa Sheldon of Mt. Zion and Scott Sheldon of Arnoldsburg. He plays basketball, runs cross country and participates in track and field. He also maintains a 4.0 grade point average and is a member of the Fellowship of Christian Athletes.

His plans after high school include pursuing a business degree from a West Virginia college or university and possibly his master's in business administration.

When asked why he was excited about attending the conference, Sheldon said, "Being able to attend the conference would be phenomenal to my personal growth and will open my mind to more and better opportunities. But, what I can only imagine is what great things I will be able to learn and experience to bring back to my school, my church and my community."

For the next few months Sheldon will be working and organizing fundraisers to help pay for his tuition, room and board and travel expenses for the conference.

If you have any suggestions, questions or wish to help in any way please feel free to contact him by email at ltsheldon21@yahoo.com or address PO Box 134, Grantsville, WV 26147 or by phone 304-354-9924. You can also check out the conference online at www.cylc.org and click on the National Young Leaders Conference.