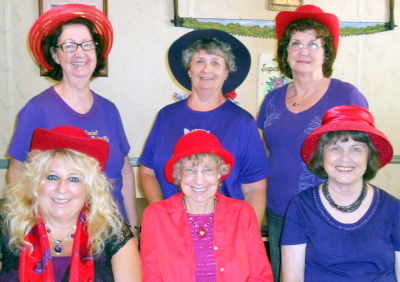 (Seated L-R) Marty Park, Gae Bailey and Lorraine Bailey;
Standing (L-R) Juanita Boggs-Saunders, Yvonne Church, Sharon Knotts
The Glamour Girls, local chapter of the Red Hat Society had lunch at the "Y" Restaurant in Arnoldsburg June 18th. They had a nice time chatting and catching up on all kinds of news.
Two of the Glamour Girls, Yvonne Church and Juanita Boggs-Saunders celebrated their June birthdays.
Thanks to Maureen Donato for bringing birthday cupcakes. The group made the final preparations for attending the WV Power Ball game on Friday, June 27th.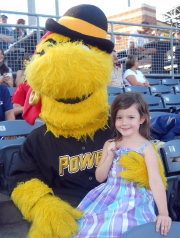 Isabella "Bella" Metz (left) 4-year-old great granddaughter of Yvonne and Fred Church.
The group saw the WV Power win over the Lakewood team 6-2. They had a great evening. The weather was super nice! The gals had their husbands, two of their daughters, and even a great granddaughter with them.
Young Bella got to spend a little time with the WV Power mascot, Chuck. She sat on his lap, high and low fived with him, and just had a blast. She was so excited that she just made the evening that much better for the Glamour Girls. What a wonderful place to have an enjoyable outing!
The next luncheon will be on Wednesday, July 16th.