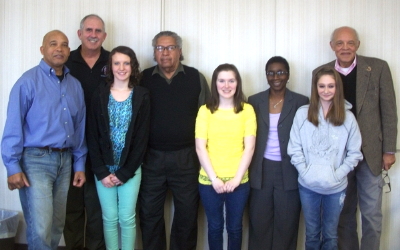 L-R - Anthony Kinzer Sr., Dan Cosgrove, Darla Harrison,
Rev. Homer Davis, Aleah Dye, Dr. M. Lois Lucas, Alicia
Mills, and Dr. Cubert Smith (Angela Dye, photographer)
By Dan Cosgrove
The 2013 National History Day (NHD) competition is scheduled for April 26, 2013 at the Civic Center in Charleston.
Both middle and high school students have the opportunity to compete in a variety of categories for the competition. Students can design web pages, write research papers, or even perform skits (individually or as a small group).
Calhoun High School student Aleah Dye elected to perform a skit.
The theme for this year's competition is "A Turning Point in History." Dye will take on the role of civil rights activist Rosa Parks, an individual who played a pivotal role in the civil rights effort.
The main objective of NHD is to get students to conduct serious research, especially by focusing on primary sources (speeches, letters, first-hand accounts, etc.).
As Dye began her research and shared what she was doing with classmates, she received comments and suggestions, such as darkening her face, or was simply told that it wouldn't make sense for a white person to play Rosa Parks. She discussed these comments with middle school teacher and National History Day Coordinator, Dan Cosgrove.
After reassuring her about her ability to portray Parks (without makeup), Cosgrove contacted the West Virginia Center for African American Art and Culture, Inc. in Charleston to arrange a meeting with Dye and members of the Black community in Charleston.
The Center's Executive Director, Mr. Anthony Kinzer Sr., was very receptive and quickly agreed to organize a meeting.
On April 6, Dye and her mother Angela, along with Cosgrove and two top middle school social studies students, 6th grade student Alicia Mills, and 7th grade student Darla Harrison, travelled to Charleston.
Kinzer arranged for the group to meet with Dr. M. Lois Lucas, history professor and Interim Dean for the College of Business and Social Sciences at West Virginia State University, Dr. Cubert Smith, Charleston City Council member and renowned artist and educator and Reverend Homer Davis, an influential leader over many years in the civil rights movement in West Virginia and the country.
Davis' many credits include being instrumental in integrating the former Rock Lake Pool and other accommodations in Charleston, held many offices including Deputy Director of the Office of Civil Rights, in the national Office; recipient of the Governors 1998 Martin Luther King, Jr. "Living the Dream Award" for Human and Civil Rights, and also past president of the Charleston branch of the National Association for the Advancement of Colored People (NAACP).
As a founding member of an early Kanawha civil rights organization, he worked with C.T. Vivian, deputy to Dr. Martin Luther King, Jr. It was a remarkable meeting as students got a personal account of the civil rights movement in West Virginia, and the deep south.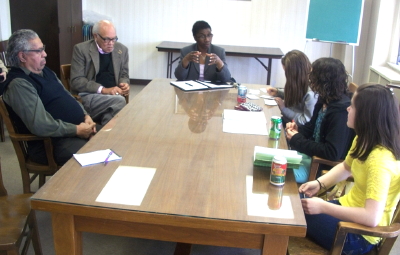 Dr. Lucas, provides valuable insight
and deeper understanding to students
Students were prepared with written questions, but as the meeting went from a question and answer period to a friendly conversation, the impact and significance of the civil rights movement became more meaningful to the students.
Students were mesmerized as Smith talked about his travels as a professional baseball player for the Detroit Tigers to spring camp in Florida during the 1950s and his first-hand account of experiencing prejudice and segregation state by state, and when Reverend Davis started to discuss his personal experience of how he felt during segregation - not feeling like a real or a whole person, you could hear a pin drop in the room.
The students confessed later that they were moved close to tears as his story unfolded. The meeting lasted for nearly two hours, and in addition to students learning a wealth of information, just as importantly, friendships were made.
They all wished Dye well on her upcoming portrayal of Rosa Parks.
A special thanks to Kinzer and the West Virginia Center for African American Art and Culture Inc. and three great people who spent a Saturday afternoon with Calhoun Students.
Although the NHD competition is a couple of weeks away, Dye and the other students have already won a more valuable prize, a first-hand account of an important part of American History.