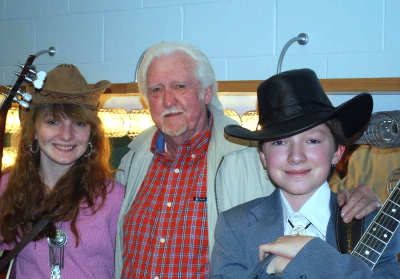 Marteka and William with Buddy Griffin at the Wheeling Jamboree
Marteka and William Lake will headline at the West Virginia Bluegrass Alliance© regular monthly sing at the Lions Club Building, located behind the CCCOA Building in Grantsville, Saturday, April 13 from 6:00 to 10:00 p.m.
Musicians sign in for available time slots at 5:30 pm, admission is free. There will be a 50/50 drawing plus door prizes. Menu for the evening will be Hamburgers, Hot Dogs, Baked Beans and a dessert. For further info call log on to   http://www.wvabgma.net   or call 304-354-9396.
Marteka and William are two up and coming bluegrass Musicians who have marked a clear path, following the traditional sound of Lester Flatt and Earl Scruggs. In their brief time in pursuit of their dream, their accomplishments far exceed some seasoned musicians in the bluegrass genre.
They played on the Wheeling Jamboree USA with fiddle player Buddy Griffin in January, and have been invited back for encores.
Marteka and William Lake received the call of a lifetime in February, when Michael Johnathon of Lexington, Kentucky (host of Woodsongs Old Time Radio Hour) invited them to perform on his show.
Johnathon told them they would be performing with the legendary banjo picker, JD Crowe. The show was taped on February 11, 2013.
You can watch the entire show on Internet, go to Woodsongs, Old Time Radio Hour, click on archives show #702. They perform about half-way through the show.
The show will be airing on PBS TV sometime this summer, and will also be airing on Blue Highways TV. It will be broadcast in over 90 million homes, also on over 500 radio stations and in over 170 countries.
They will be playing many other places throughout the year, including Sage Brush Round-Up in Fairmont; Feast of Ramsons in Richwood; Wheeling Jamboree in Wheeling; Jerry's Run Summer Theater and homecomings and several benefit shows.
(Letter of appreciation from Wheeling Jamboree) Wheeling Jamboree, January 18, 2013.
Dear Lake Family,
When Buddy Griffin mentioned to me he had some young talent that he invited to be with his band, to do a guest spot on his portion of the show this month, I expected Buddy and his band to deliver his usual stellar performance. However when Marteka and William stepped up to the microphone and kicked off the first song I was really taken back by what I heard!
Seeing them I thought of a certain 12 year old from here in West Virginia that launched his professional career on the stage of the Wheeling Jamboree. Then by age 14 was a regular member of the show and went on to become an international Country Music megastar, his name is - Brad Paisley.
When I listened closer to Marteka and William on stage, I then thought of the many questions asked of me, by Bluegrass musicians and fans that come to the Jamboree regarding the Pioneers that were cast members or on staff of the Jamboree.
Names like The Osborne Brothers, Reno & Smiley, The Lilly Brothers, Jimmy Martin and many other greats that were part of our shows rich history. Most times those conversations get around to the question "Did Flatt and Scruggs ever play the Wheeling Jamboree"? The answer is yes.
I can now say that the music and the spirit of Flatt & Scruggs music have revisited the Jamboree with brother and sister William and Marteka Lake.
Your performance is now a part of the legacy that the Jamboree represents to our nation and our states musical heritage that we are so proud of.
I would like to express my excitement and delight to each of you, in the direction and steps that Marteka and William have taken in delivering such a high level of performance at such a young season in their musical lives.
(Signed) President/Executive Producer Wheeling Jamboree, Inc.
The Jamboree is the second longest running weekly radio program and Country Music Stage Show in America.