Compiled by Norma Knotts Shaffer.

  Photos of the March 1913 flood which devastated central Ohio and the Ohio River Valley.  The photo of Market Street in Parkersburg is from a newspaper clipping from the Parkersburg News.Other photos and text from the book "The True Story of Our National Calamity of Flood, Fire and Tornado," by Logan Marshall, copyright 1913 by L.T. Myers.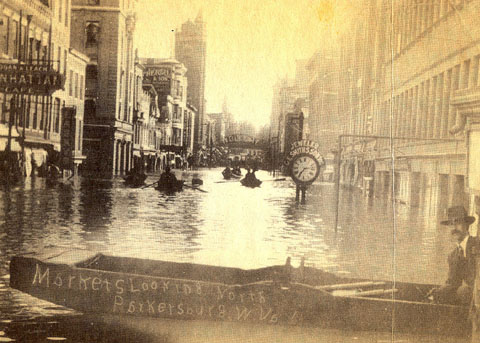 Market Street in Parkersburg During 1913 Flood

Caption under photo in clipping reads:  WET--Here's a section of Parkersburg's downtown Market Street looking north as it appeared during the record 1913 flood.  At right is the Blennerhassett Hotel (the clock no longer exists at that location), and in the background, right, is the tower of old City Hall with the steeple of First Baptist Church farther up the street. - Parkersburg News

Parkersburg Under Water

More than half the business district of Parkersburg and part of the residence section were under water on March 28th, with the Ohio River still rising.  The gas, electric and water plants went out of commission soon after noon, and street cars stopped operations.  All the newspaper plants were flooded out except that of the Parkersburg Sentinel, whose editorial force was taken to the building in boats, and worked on the second story while water was flowing through the rooms below them.  A single page, printed on a proof press and containing the flood news of the Associated Press report, was delivered to newsboys in boats, who sold each copy at a fancy price, as the printing of the edition was limited to two a minute.

Marietta Flooded

The valley between Zanesville and Marietta became a surging lake, which picked up buildings and everything movable and carried them along with incredible speed.  The loss of property was tremendous.

Marietta suffered from the swollen waters of both the Muskingum and Ohio Rivers.  The situation was serious on Wednesday; by Sunday it was alarming. 

At eight o'clock Saturday morning the river had reached the stage of 60.6 and was still rising.  All the business section of the town was flooded and many residences were under water.  There were no public utilities in operation and food and medical supplies were sorely needed.  There were many rumors concerning loss of life, but the swift current prevented communication to those parts of the city where persons were reported drowned.

Immediately upon receipt of the message from Whipple, a station on the Marietta Branch of the Pennsylvania Railroad, that Marietta was under water, preparations were made by the railroad company to send out a relief train from Cambridge.  It reached Whipple Saturday night and from there help was brought to the distressed city.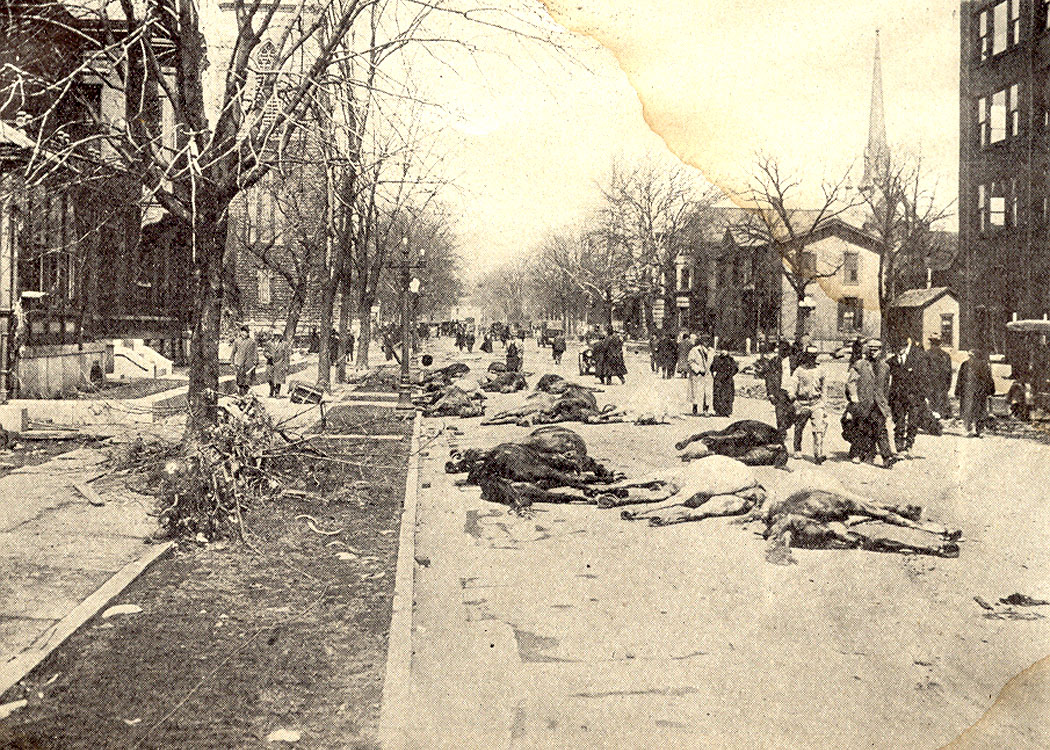 A view taken at Ludlow and Second street Dayton, after the water had receded, showing one phase of the devastation resulting from the flood.
(Photo copyright by International News Service)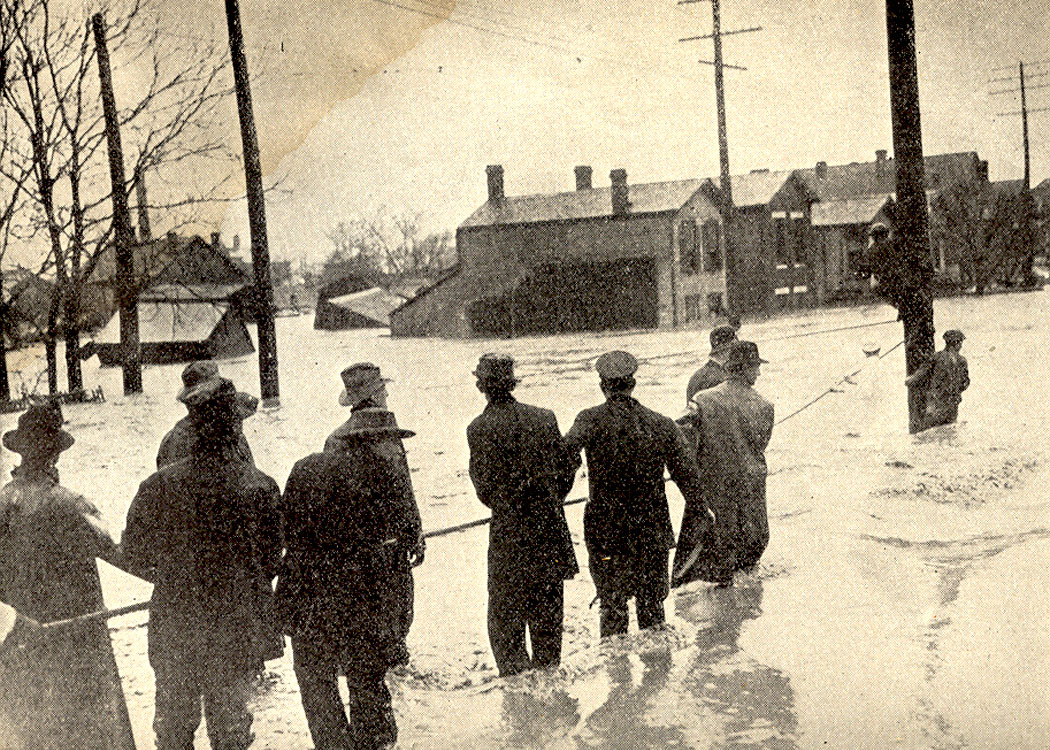 Life lines strung across one of the streets.
  The rescuers caught persons carried down on wreckage
in the raging flood and brought them to a place of safety.
(Photo copyright by Underwood & Underwood, N.Y.)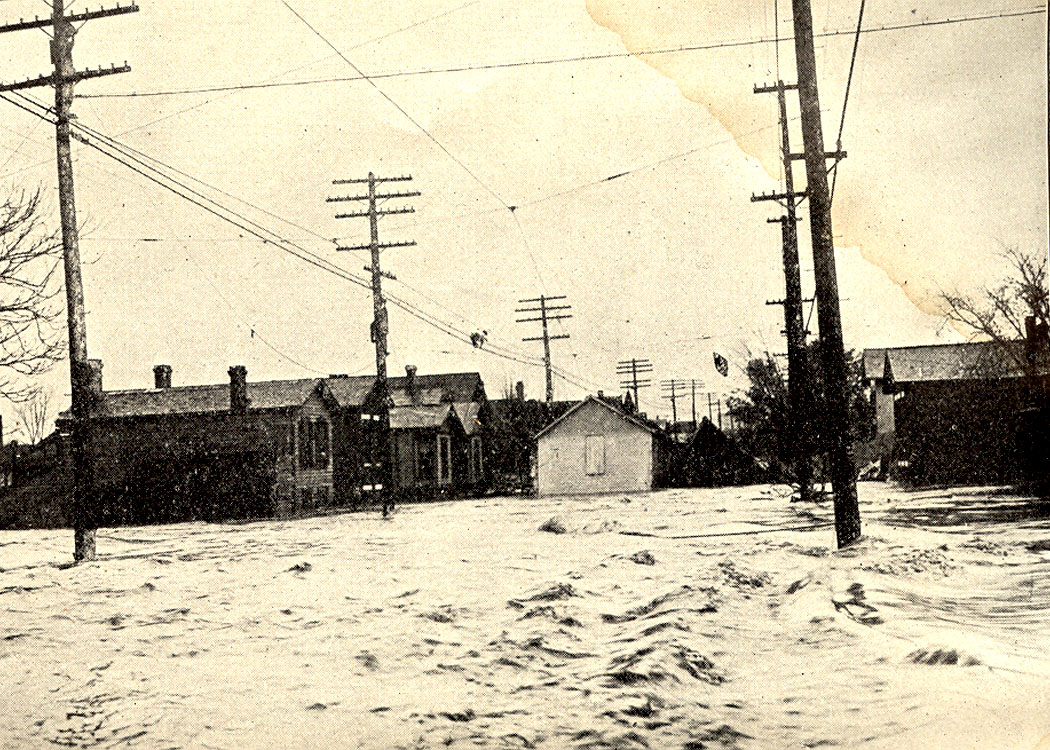 Man walking along the telephone cables after escaping from his house, which was washed away by the flood.  The houses in the center have been washed away from their foundations and are floating away.
(Photo copyright by Underwood & Underwood, N.Y.)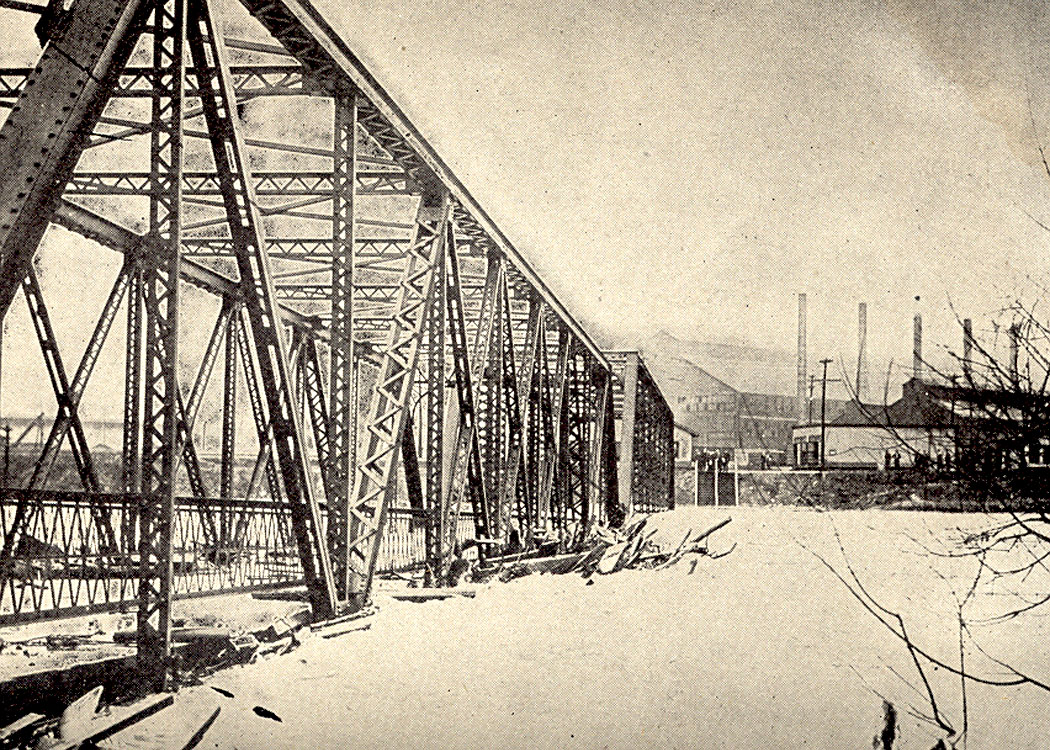 The bridge shown leads to the Carnegie Steel Company at Youngstown, Ohio.  Ordinarily this bridge is far enough above the water to allow the large river steamers to pass under.
(Photo copyright by Underwood & Underwood, N.Y.)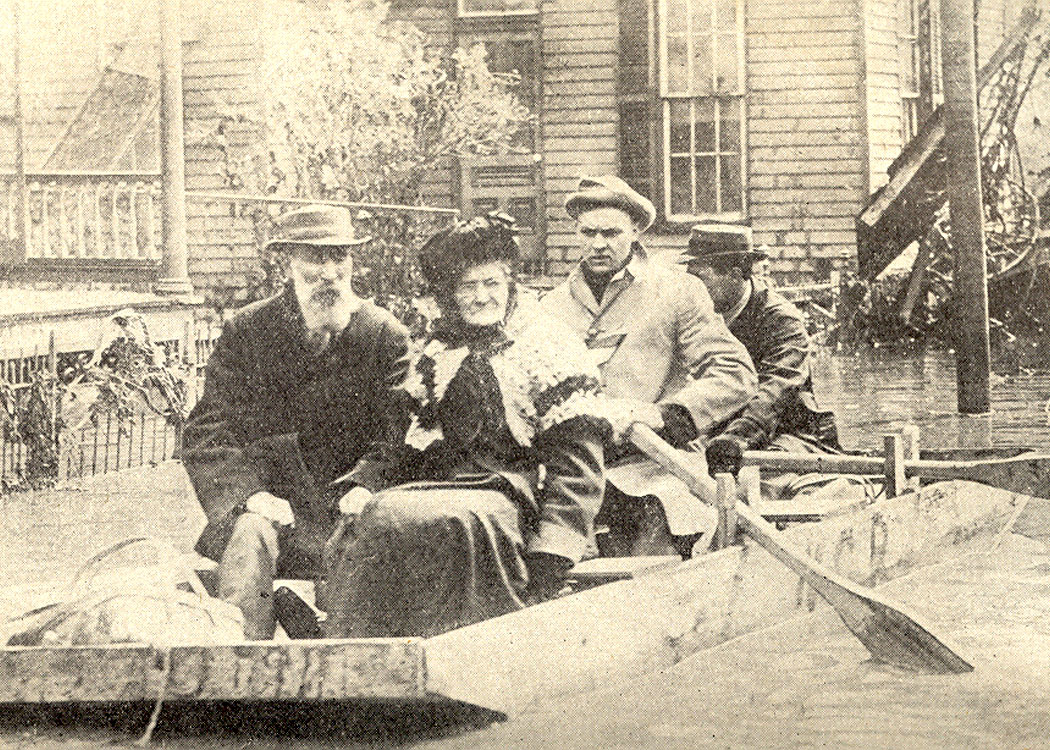 Even before the flood reached its height, the wood-working department of the National Cash Register Factory was busily putting together improvised boats that were afterwards of great value in rescuing marooned residents from their flooded homes.
(Photo copyright by Underwood & Underwood, N.Y.)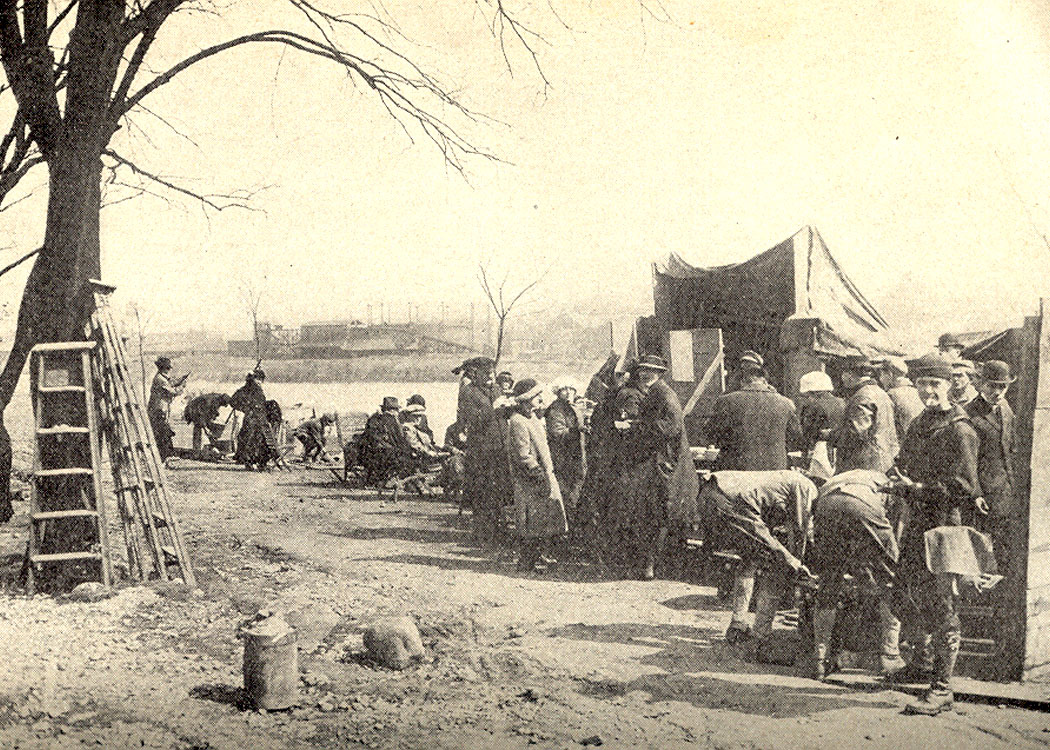 A typical scene at one of the relief stations.  Here men, who a few hours before had been millionaires, stood in line with their fellow citizens, quite as much dependent on these relief stations for sustenance as paupers.  Orville Wright, the famous aviator, was one of the men in the bread line.
(Photo copyright by Underwood & Underwood, N.Y.)