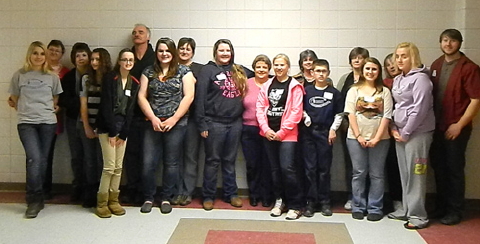 Glenville, WV - The Glenville State College Hidden Promise Scholars Program held their annual 'Meet and Greet' community gathering on the evening of Monday, February 11th in the library at Calhoun County Middle-High School. The event was held to meet with parents and students from Calhoun County to discuss program updates and upcoming summer camps and to answer any questions they have about the program.
Ten GSC Hidden Promise Scholars along with their parents enjoyed pizza and soft drinks and met with GSC Hidden Promise Coordinator Jenny Boggs and GSC Assistant to the President Marlon Henry. GSC Hidden Promise Mentors Joseph Overbaugh, a GSC junior from Mount Zion, and Sarah Lane, a freshman from Arnoldsburg, and Calhoun County High School Counselor Terry Goodnight were also in attendance.
The Hidden Promise Scholars program is an alliance among Glenville State College and county school districts across West Virginia aimed at improving communication between higher education and K through 12. Other goals include increasing the number of high school and college graduates as well as aligning the K-12 and higher education curriculum.
Hidden Promise Scholars are students in the eighth through twelfth grade from central West Virginia. Selected by county superintendents and principals, these students interact with Glenville State College students and faculty and explore the vistas that a college education opens. Hidden Promise Scholars will mentor with college students at their home schools and participate in an array of campus visits.
There are currently thirty-two students in Calhoun County who have been selected as Hidden Promise Scholars.
Upon high school graduation, Hidden Promise Scholars who enroll at Glenville State College receive an annual scholarship. The annual grant is renewable throughout their enrollment at GSC as full-time students maintaining standard academic progress.
Similar 'Meet and Greet' events are planned for each of the thirty-seven counties and Belpre, Ohio school systems that participate in the GSC Hidden Promise Scholars Program.
"These community gatherings provide the opportunity to discuss the program in a casual setting and allow the Scholars to meet their Mentors in person. They are a very important part of the program, and I love having them," said Boggs.
To learn more about the GSC Hidden Promise Scholars Program, contact Boggs at virginia.boggs@glenville.edu or (304)462-6059.