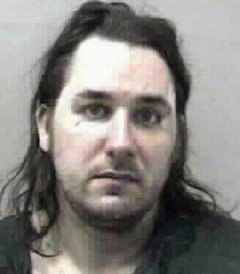 03/02/13 - Roane County authorities arrested Todd Honaker, 34, early Saturday and charged him with the first degree murder of his wife Renee Honaker,30.
Now, 32-year-old Chad Renzelman has been arrested at his parents home in Kennewick, Washington and charged with being a fugitive from justice in Washington and has been charged with first degree murder and conspiracy, related to the delivery of a controlled substance to Roane County.
Deputies say Renzelman has a Masters degree in Chemistry, worked at a nuclear facility, and has a government security clearance.
Roane County deputies are going to be going to Washington in the next few days to retrieve Renzelman and bring him back to be tried in Roane County.
Police responded to Looney Fork Road to an overdose call at the Honaker residence Friday night and discovered Renee Honaker dead.
Authorities said they believe Honaker supplied the drugs that led to her overdosed death and further saying the man waited too long to call 911.
"They were both under the influence of the same controlled substance, (identified as LSD). For some reason she didn't make it and he did," said Sgt. Bo Williams of the Roane County Sheriff's Department told WSAZ-TV.
According to the criminal complaint, Todd and Renee Honaker each took two hits of acid that was mailed to them by a friend of Todd Honakers.
About a half hour after taking the drug, Todd told police that his wife fell to the floor and started convulsing, according to the police. She later died at a Charleston hospital.
The report says that Todd is claiming that they had both been poisoned.
After asking Todd if there was any acid left, police found more in the trash outside the Honaker house in the envelope it had been mailed, along with instructions on how to ingest it and the price for the acid.
In addition to the first-degree murder charges. Honaker is also charged with delivery of a controlled substance.
Looney Fork if off State Rt. 36 near Lefthand.