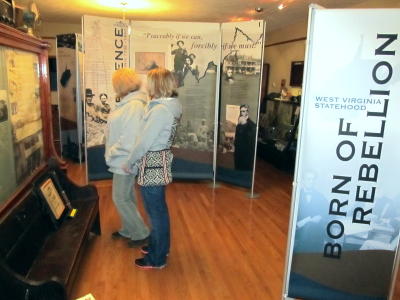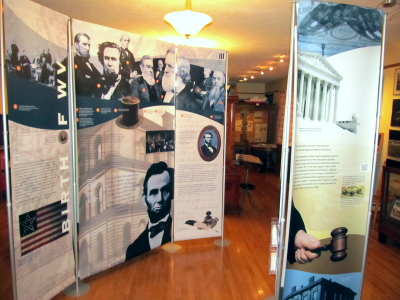 Statehood exhibit on public display in Grantsville
To help organizations observe the 150th birthday of West Virginia in 2013 the West Virginia Humanities Council is touring its award winning traveling exhibit Born of Rebellion: West Virginia Statehood.
The exhibit will be on display to the public at the Calhoun County Historical Society Museum in Grantsville from February 27 through March 13. The local sponsor of the exhibit is the Calhoun County Historical Society.
Also on display at the museum during this time will be a B.F. Goodrich Aircraft Systems exhibit organized by the historical society.
The circumstances of the creation of West Virginia remain unique in American history. Questions arose as to the constitutionality of the process and even as to whether the new state should be dissolved once Virginia was restored to the Union.
The issues involved in West Virginia's birth still engage people even far beyond our borders - providing material for a 2003 C-SPAN debate and lengthy article in the California Law Review. Born of Rebellion examines the constitutional questions surrounding the statehood process.
Consisting of three freestanding kiosks, the exhibit originally toured the state for two years starting in 2006 when it received a Leadership in History Award from the American Association for State and Local History. Using text, photographs, images, and maps it has been redone with a new lightweight panel system.
Exhibit viewers are given an opportunity to cast their vote on the constitutionality of our state. The Humanities Council provides the exhibit at no cost to interested venues. It is currently booked through December of 2013. The exhibit was made possible with support from the West Virginia Department of Education and the Arts.
The Humanities Council made the design phase of the exhibit an innovative educational project by working with graphic design students at West Virginia University. Sixteen students working in four teams designed the exhibit as a class project, as well as the accompanying brochure.
The exhibit features several QR (quick response) codes. Visitors with smart phones can scan these codes and read related articles in e-WV: The West Virginia Encyclopedia at www.wvencyclopedia.org
For more information call the Calhoun County Historical Society at 304-354-7507. The Born of Rebellion display schedule for 2013 is available at www.wvhumanities.org