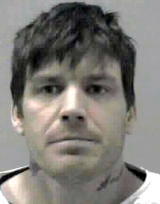 Authorities have arrested Joseph Clayton Southers, 36 (left) formerly listed as a resident of Clay County, and charged him with grand larceny and conspiracy to commit grand larceny.

Those charges are related to a 2010 incident regarding an ATV stolen from Bernard Coon, Jr.

According to the criminal complaint, Southers was involved with Brian Burrows in taking the ATV to Honysuckle Lane near Mt. Zion.

He is in Central Regional Jail with bond yet to be set.

Southers has had drug arrests in Clay County.

State Police have not made arrests following a stolen vehicle in the Orma-Chloe area late Sunday night, with a search conducted by several troopers.

A Dodge diesel truck was reportedly stolen from Walter King at Chloe.

State Police reportedly discovered the vehicle wrecked on its side on Walker Road, the vehicle described as totaled.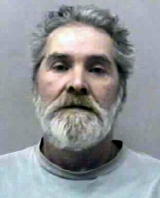 Chester Allen Cunningham, 58, was arrested for drunken driving during the State Police's search for the stolen vehicle.
Officers arrested Cunningham early Monday morning between Orma and Arnoldsburg.
He is charged with 3rd offense drunk driving a felony, and is being held in Central Regional Jail on $5,000 bond.
Calhoun State Police arrested Joshua Wayne Duffied, 22, on a fugitive warrant from Greene Co PA for failure to appear in court.