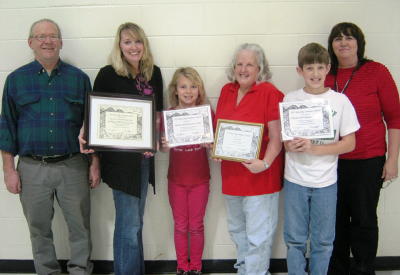 Pictured (L-R) Tom Degen, Amanda Morris, Annetta
Moss, Kaye Yoak, Jordan Yoak, and Linda Jarvis
By Tom Degen, executive director for
Calhoun County Solid Waste Authority
The Recycling Coalition of West Virginia in coordination with the state's solid waste authorities is honoring Recycling Champions who reach beyond their normal responsibilities to contribute time and service to support recycling in the Mountain state.
These individuals, groups, and businesses provided significant recycling leadership across the state to make a significant contribution to improve the recycling community. Join us in acknowledging those who are true recycling champions in our state.
Calhoun County Solid Waste Authority Recycling Champion - Pleasant Hill Elementary School - The Calhoun County Solid Waste Authority nominated Pleasant Hill Elementary School of Grantsville, West Virginia to be a 2012 Recycling Champion.
In what is really a school-wide effort, the classrooms save their recyclables in bins that are in most teachers' rooms; the fourth grade class comes around to pick up from the bins; and parent volunteer Kaye Yoak takes the recyclables to Cabot Recycling Station.
The school goes above and beyond the norm to support recycling in Calhoun County.
On Thursday, December 20, 2012, Amanda Morris, a Calhoun County Solid Waste Authority board member, and Tom Degen, executive director, presented the 2012 Recycling Champion Award to the entire school and to Kaye Yoak for their initiative and commitment to recycling.