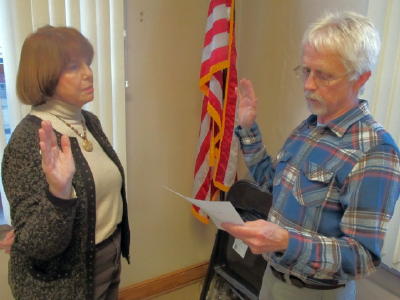 County Clerk Mike Ritchie completed the swearing-in of Jean
Simers as County Clerk, Simers assumes the position on January 15
The Calhoun Commission appointed former school administrator and civic volunteer Jean Simers to fill the County Clerk position vacated by Mike Ritchie, who resigned the post after completing two of a six year term.
The commission elected commissioner Kevin Helmick as president for 2013.
Simers will fill the position until the next general election in 2014.
Ritchie's resignation is effective on Jan. 15.
The Clerk of the County Commission serves as secretary to the commission and maintains official records, including budgetary issues.
The clerk has additional duties relating to voter registration, elections, deeds, wills and estates, and other vital records.
Simers worked for the Calhoun school system as Coordinator of Services from 1967-2004 and has developed dozens of community outreach programs as director of the Family Resource Network since 2008.
She is currently president of Minnie Hamilton Health System Board of Directors, a member of the Little Kanawha Area Community Foundation, secretary of the Little Kanawha Bus Board of Directors, and chair of the Calhoun County Substance Abuse Coalition.