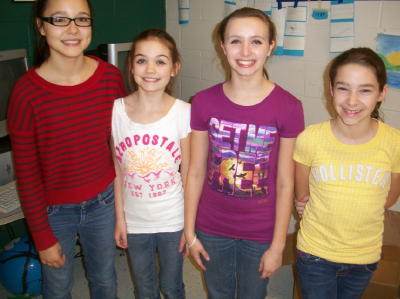 L-R: Emily Nichols, Ariah Bailey, Cameron Smith, and Brogan Richards
By Dan Cosgrove
The events at Sandy Hook Elementary School in Connecticut have touched everyone, including our own young students. We are all left with our personal way to deal with the sadness and unfathomable events. Four 6th grade students knew they had to do something and quickly decided to raise money to send to Sandy Hook.
With a small jar, Ariah Bailey Emily Nichols, Brogan Richards, and Cameron Smith went to students and teachers and quickly collected over $200. Many students emptied their pockets, happy to be a part of this effort.
Brogan wrote a letter to be included with the donation being sent. The letter follows in its entirety:
"Dear Sandy Hook Elementary School,
We have been thinking about your loss. We are kids from Calhoun (Middle) School. We have collected money for you from donations at our school. In social studies we are learning about religion, and whatever religion you are, we are thinking about you."
Yes, we do have a great bunch of kids at our school!