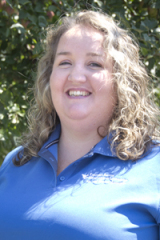 Daisy Fryman, an agent in the Calhoun and Gilmer county offices of the West Virginia University Extension Service, was honored recently by her peers for her work to help women be more successful in agriculture in West Virginia.

As a member of the statewide Annie's Project Team, Fryman developed and delivered a program to enhance farm viability through improved risk management to female farmers. She, along with other Extension educators, received the WVU Extension Service's 2012 Diversity Programming Excellence Award.

The awards were presented during the WVU-ES Appreciation and Accolades Luncheon held at WVU Jackson's Mill State 4-H Camp near Weston.

During the past decade, the number of women who own and operate farms has increased faster in West Virginia than the national average. Many have inherited farming operations. Others see the focus on locally grown food as a viable career opportunity. Often these women don't have the backgrounds or experience they need to be successful, and report feeling isolated from traditional farmers and from needed information and educational networks.

Annie's Project is a six week face-to-face education program that provides risk-management education, coaching and mentoring assistance and networking opportunities designed to increase the number of women leading profitable agribusinesses in West Virginia.

Topics include financial management, food safety requirements, business plans and best practices. The program is helping to create a network of women farmers who can share information and improve farm success.

Connecting the people of West Virginia to the University's resources and programs is the primary goal of WVU Extension Service and its 55 offices throughout the state. Local experts, like WVU Extension's agents and specialists, work to help improve the lifestyles and well-being of youths, workforces, communities, farms and businesses through trusted research in the counties in which they serve.

To learn more about WVU Extension programs, visit www.ext.wvu.edu, or contact your local office of the WVU Extension Service. Contact Daisy Fryman, WVU Extension Agent- Gilmer and Calhoun Counties, 304-462-7061 or 304-354-6332 for more information about extension programs.