State Police are reporting a shooting in Clay County Saturday.

Authorities say a woman was shot in the Heartland area, near the Town of Clay.

Crystal Runion had been shot in the leg and was discovered bleeding in the middle of the road.

She was flown to CAMC, where her condition was reported as non-life threatening.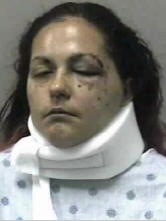 Witnesses describe a car arriving in the neighborhood before a physical fight between two women.
Those witnesses described a woman returning to the car to retrieve a handgun. Two shots were reported fired.
Police arrested Destiny Rose Dawson, 29 (left) and charged her with malicious wounding and transferring and receiving stolen property.
State Police said Runion told troopers that Dawson shot her and that Rodney Runion hid the weapon before they arrived.
She is in Central Regional Jail on $101,000 bond.
State Police reportedly have two other suspects in custody.