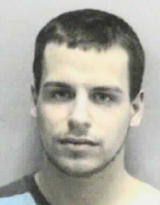 A Ritchie County deputy sheriff's vehicle was struck by a driver in a stolen car Wednesday.

The deputy was taken to a Parkersburg hospital, believed to not be seriously injured.

The vehicle was reported missing from Doddridge County, but State Police in Ritchie County spotted it near the 7-11 at the intersection of Route 50 and Route 74 in Pennsboro.

Driver Michael Lee Sharp, 21 (pictured left) took off when troopers tried to stop him, and then he ran into the deputy's cruiser.

Police say that Sharp and Amanda Marie Clendenning were released from the North Central Regional Jail and the pair stole a jail employee's car and fled to Ritchie County.

Sharp, the driver of the stolen vehicle, has been charged with grand larceny, reckless driving, failure to obey a traffic control device and fleeing with a vehicle.

He is being held on $11,500 bond.