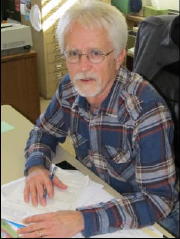 Calhoun County Clerk Mike Ritchie submitted his resignation to the Calhoun Commission Wednesday.

Ritchie (pictured right), who was elected to the job in 2010, has served two years of his six year term. His resignation is effective January 15, 2013.

"It has been an honor and a privilege to serve as clerk. I appreciate the support given to me by the commission and the community," he said.

Commission Kevin Helmick said he was aware of the long hours and weekends Ritchie spent in the office. Commissioner Chip Westfall said, "You fought the good fight."

"I've known Mike Ritchie for over 40 years, and have always known him to be an honorable man," said commissioner Bob Weaver.

Ritchie has apologized for some of his shortcomings in the job, including being thrust into five elections during the last two years.

Earlier this year, Ritchie apologized to the commission for his failure to publish the annual financial statement within the time frames required by WV Code.

"It was simply a new clerk trying to learn a new and difficult task," Ritchie said, "after the county losing a clerk with 24 years of experience and two employees in the clerk's office."

"I take full responsibility for the document being late," Ritchie said at the time.

The commission will follow WV Code in appointing a clerk. That appointment will hold until a newly elected clerk takes office after the next General Election in 2014.