Seven years ago a massive gas line explosion struck the Sissonville area and I-77. It was a miracle no one was killed.

ORIGINAL STORY - The NiSource natural gas pipeline that blew up in the Sissonville area was constructed in 1967, according to new federal records that contradict NiSource's statements to local officials.

The company had said the line was built in the 1990s.

Conflicting initial reports about the pipeline's age would not have come as a surprise to federal officials, who have found similar problems in previous investigations regarding explosions, including the lack of automatic or remote shutoff valves on the line.

It took gas company officials over an hour to shut down the line manually.

A 10-member team of NTSB investigators found that the pipe that blew had lost 70% of its thickness.

Officials said they want to understand how the pipe got to that level of corrosion and why it was not identified, being a high pressure line.

Critics say thousands of miles of gas lines are worn thin, with many companies having virtually no replacement program.

A number of Sissonville residents have decided not to return to their homes since the raging inferno destroyed homes and 'melted' a section of I-77. No one was killed.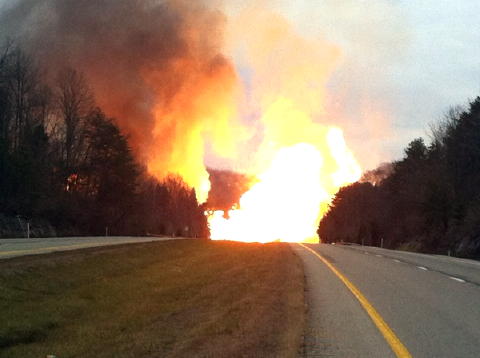 ORIGINAL STORY 12/12/12 - The explosion of a 20 inch pressurized natural gas line Monday torched five houses in Sissonville, and ripped across I-77 making it impassable.
Miraculously no one was killed in the houses or on the busy Interstate highway. All residents were away from their houses, and one man had gone rabbit hunting.
Flames leaped 80 to 90 feet in the air, incinerating trees, homes, cars and destroyed an 800-foot section of north and south-bound lanes of the Interstate between Charleston and Ripley.
Residents were evacuated from the area.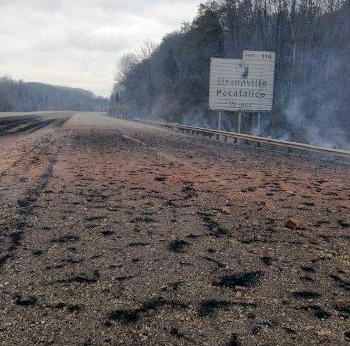 Contractors will be working all night on the Interstate to hopefully have it opened sometime Wednesday.
The flames were so hot, highway officials said the guardrails melted, charring and baking the roadway.
Firemen described the area as working on an erupting volcano.
A resident said, "It was like the end of the world."