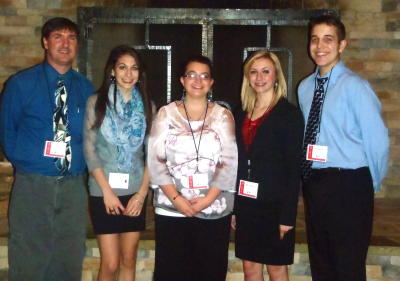 (L-R) Mr. Don Poage, Kelsey Jett, Ruby
Prusack, Brooklyn Smith, and Jared Fitzwater
Four members of the Calhoun County FEA (Future Educators Association) attended the State Conference held at the Stonewall Jackson Resort on December 4th and 5th.
Members were Jared Fitzwater, Kelsey Jett, Ruby Prusack, and Brooklyn Smith. The theme was "The Wonderful World of Teaching." Opening session was presented by the State FEA Officer Team. Keynote speaker was Mr. Michael Funkhouser, 2013 WV Teacher of the Year.
Jared Fitzwater won 1st place in the public speaking event and will get to represent WV FEA at the National Conference in Orlando, Florida in April, 2013. Brooklyn Smith placed 3rd with her presentation on emergency preparedness and will also get to represent WV FEA at the National Conference. Kelsey Jett participated in impromptu speaking and Ruby Prusack delivered a lesson plan on colors to elementary students.
When the students were not competing, they attended mandatory workshops, including, Building the Ideal Classroom, Connecting to Your Future, Energy Express, and Lets Tell a Story. Students also made teacher toolboxes that they brought back home.
Mrs. Connie Hall and Mr. Don Poage are advisors of the Calhoun FEA members. Special thanks to Brenda Poage for chaperoning the trip.