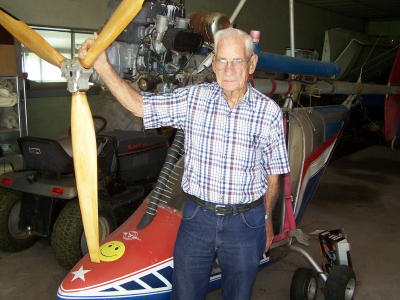 Rogers displays one of his many flying machines
2012
An Arnoldsburg man who was recognized by the state's governor as being the oldest flying pilot in West Virginia has died.
Captain Ford Rogers, who owned and operated Rogers Used Cars and Trucks for 47 years, has passed at 87.
Rogers was described as "a truly remarkable man," whose interests and service was admired in the Arnoldsburg community.
Funeral services will be held Friday, December 14 at 2:00 p.m. in the West Fork Community Building, Arnoldsburg, with the Rev. Ronald Rogers officiating.
Burial will be in the Minnora Cemetery.
Friends may call at the community building from 6-8 p.m. Thursday.
John H. Taylor Funeral Home, Spencer is in charge of arrangements.
See full obituary Captain Ford Rogers
See ARNOLDSBURG PILOT CAPTAIN ROGERS TURNED HIS EYES SKYWARD - Gov. Manchin Issues Special Recognition