"Precious in the sight of the Lord is the death of His saints." Psalm 116:15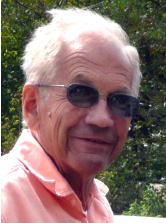 Vere Harold Brannon, 78, of Arnoldsburg, West Virginia went home to be with his Lord Jesus on Wednesday, December 5, 2012.
Vere had fought a courageous year-long battle with cancer and spent his remaining days at home and at a Hospice House Serenity Room at Camden Clark Medical Center.
Vere was born on June 22, 1934, to the parents of Victor C. and Jessie "Eleanore" Stump Brannon.
Vere was a 1952 graduate of Calhoun County High School and attended Potomac State College and West Virginia University. He served in the United States Army from January 1957 to January 1959. Vere owned and operated Brannon's Exxon in Arnoldsburg for 25 years. He worked for various companies, but for the last 11 years he worked for Houchin Construction, LLC.
Vere was a Christian for many years. He was a member and faithfully attended Louisa Chapel United Methodist Church where he held many offices.
He enjoyed his family and friends more than anything. He also took great pleasure and pride in restoring old cars and trucks, farming, and raising cattle.
Vere is survived by his wife, Susie, of 37 years; daughters, Cindy Carbaugh (Rick) of Knoxville, Tennessee, Shelly Mace (Jeff) and Amie Carper (Sheldon) all of Arnoldsburg; seven grandchildren, Misty Bays of Bristol TN, Kristyn Ball of Stoughton MA, Chris and Evan Mace and Gracie, Riley, and Holly Carper all of Arnoldsburg; two great grandchildren, Hayden and Logan Bays; two sisters, Doris Davis of Harrisville WV and Juanita Berdine of Arnoldsburg. Vere had several nieces and nephews and friends galore.
Vere was preceded in death by his parents Victor and Eleanore Brannon and one sister, Dorothy Brannon Hayhurst.
Funeral services will be held at the Stump Funeral Home in Arnoldsburg Sunday, December 9th at 1 pm with Rev. Timothy Hickman and Rev. Shelly Mace officiating. Visitation will be on Saturday, December 8th from 6 - 9 pm. Interment will be in the Brannon Family Cemetery.