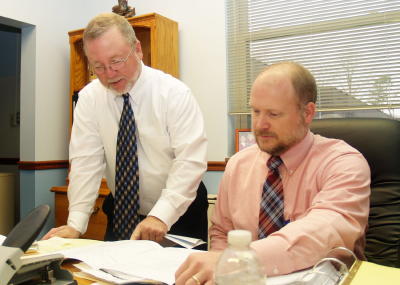 Bill Ellis (left) and Steve Whited, Minnie Hamilton Health System CEO
Minnie Hamilton Health System has named Bill Ellis as Facilities Director & Project Coordinator.
Bill began his medical career in 1969 working for EMS in Fayette County, and for the last 43 years has dedicated himself to patient care. In 1996 he began working for Minnie Hamilton Health System as a paramedic and teaching Cardiopulmonary Resuscitation (CPR), Pediatric Advanced Life Support, (PALS), Advanced Cardiac Life Support, (ACLS) and later advanced his training and is now a Mobile Critical Care Paramedic and helped not only bring Emergency Transport Services but Critical Care Transport services to our rural community.
Facing the decision to become the Facilities Director and Project Coordinator was not an easy one for Bill. He said he was torn between working direct patient care which he has done for years or overseeing the improvements and helping Minnie Hamilton expand our services to better meet the needs of the future. After a lot of thought and discussion with his family he decided "This is what I want to do".
Bill will remain Regional Coordinator for Disaster Preparedness for the West Virginia Hospital Association and will serve in the same capacity with the West Virginia Primary Care Association.
Some of the first projects he will be working on is remodeling the Lobby to speed up the patient registration process, construction of a new handicapped accessible wheelchair ramp and installation of a new walk-in freezer. He is in the planning stages of renovation of furnishings for the patient rooms in Acute Care and Long Term Care along with the renovation of the Acute Care nurses station.
"I have made a lot of friends through the years working at Minnie Hamilton and I feel the same today as I felt when I first began at Minnie Hamilton 16 years ago, "our patients need to be our #1 priority", said Bill.
For more information on Minnie Hamilton Health System or to schedule an appointment for any of their services call 304-354-9244.