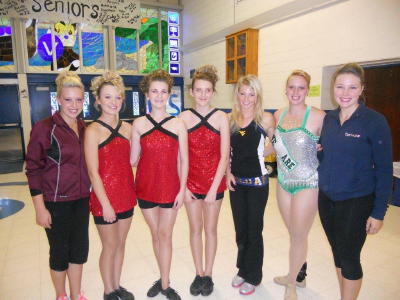 (L-R) Taylor Freeland, Kiersten Knicley, Ashley Richards, Amanda Boothe, Kirsten Brown, Merri Fran Campbell and Torianne Graal
The WV National Baton Twirling Association state competition was held in Ripley on Saturday, November 10th. According to the contest director, it was the largest contest for many years.
Calhoun majorettes coached by Lorraine Bailey won the WV State Trio competition, as well as open Duet, which includes other states, and 2nd in WV State Duet.
Kiersten Knicley won 1st place in WV open shabby chic, 3rd in Open Queen Modeling, and 2nd in State Shabby Chic Modeling, and also 3rd in WV Sportswear modeling.
Amanda Boothe won 1st in Open Sportswear, 2nd in Shabby Chic, 4th in Fancy Best Appearing, 4th in State Sportswear, 5th in State Shabby Chic, and 3rd in Fancy Best Appearing.
Ashley Richards won 4th in State Shabby Chic, 5th in State Sportswear, 1st in State Nov. Best Appearing, and 2nd in State Nov. Basic Strut.
Danielle Richards, Calhoun Band Field Commander (not shown in the above picture) won 1st in State Shabby Chic, 1st in State Sportswear, and 2nd in State Queen Modeling.
Taylor Freeland is feature twirler for GWHS and coached by Lorraine Bailey, Kirsten Brown is WV Feature Twirler, Merri Fran Campbell is Marshall University Feature Twirler, Torianne Graal is also a WV Feature Twirler.
"Calhoun County should be very proud of their majorettes and field commander, as their parents certainly are," said Coach Bailey.