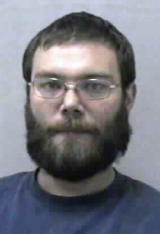 UPDATE -Police have arrested a Calhoun man, Joseph Kute, 29, with two counts of domestic battery, burglary and child endangerment. He is in Central Regional Jail.

A number of officers searched for Kute following an incident late Tuesday night, and he was arrested about 2:30 a.m. Wednesday.

WSAZ-TV say the woman and her child were found safe after they were taken from a home.

Kute reportedly went to a house on Tipton Road Thursday night, kicked in the door and then took his ex-girlfriend and their child. The woman was staying at a friend's house at the time.

Some of her friends were also at the house at the time of the incident and called 911.

Kute told police that he took the woman and their baby to several other friends' houses, but when no one was home, they finally returned to the house where the woman was staying, according to police.

Kute says he took them just because he wanted to be with them, according to police.

ORIGINAL STORY/11:30 PM TUESDAY - Police are looking for Joseph Kute, involved in a dispute.

The occupant of the residence called 911 for assistance about 10:30 p.m., reporting the man was attempting to break into the dwelling.

The 911 report indicated the man took a woman, reportedly his girlfriend and child from a residence.

State Police from the Grantsville Detachment responded to the call, to then be assisted by the Calhoun Sheriff's Department and the Grantsville Police Department.

Police were searching for a vehicle driven by Kute.