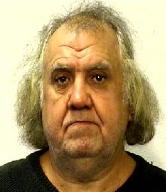 Parkersburg police detectives have charged Norman Rattliff of Parkersburg with the November 13th Community Bank robbery.

A Criminal Complaint was filed in Wood County Magistrate Court today by Detective J.M. Stalnaker, alleging that on 11-13-12, Rattliff entered Community Bank (3906 Emerson Avenue) partially concealing his identity with a hooded jacket and what appeared to be sunglasses.

Rattliff (pictured left) approached a teller, removed a zippered case from inside his jacket and handed it to the teller. Rattliff then told the teller he had a gun and told her to put all the money in the case. Rattliff left the bank after receiving an amount of U.S. Currency.

Although no gun was actually seen by the teller during the hold up, Rattliff allegedly kept his right hand concealed in his jacket pocket.

Detectives developed Rattliff as a possible suspect fairly early on in the investigation, with numerous surveillance operations being conducted by plain clothes detectives in the days following the bank robbery.

Parkersburg police S.W.A.T. (Special Weapons and Tactics) and the Detective Bureau executed one Search Warrant on November 15th at a residence near Liberty Street and Staunton Avenue in an attempt to locate Rattliff, with no success. Detectives continued to search, eventually locating Rattliff later the same day at the Economy Inn on 7th Street in Parkersburg.

Rattliff was taken into custody on unrelated warrants (Joy Riding and Failure to Appear in Court) without incident, and interviewed at headquarters about the bank robbery. Rattliff was later processed and placed in the Regional Jail on the unrelated charges.

Rattliff was officially charged with the bank robbery and was arraigned by video with bond set at $75,000.00 by Magistrate Jackson. Rattliff's bond on the other charges is $56,000 total. He remains in the North Central Regional Jail.

Detectives J.M. Stalnaker and P.M. Edelen were relentless in this investigation, with numerous other detectives spending many hours assisting.

If convicted, Rattliff could face a minimum of 10 years, and up to 20 years in prison.