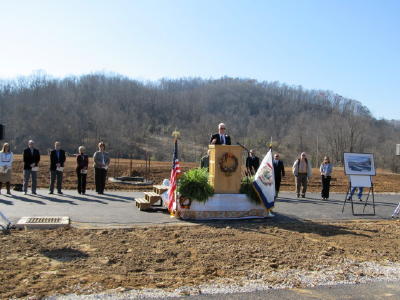 Officials gather for Arnoldsburg school groundbreaking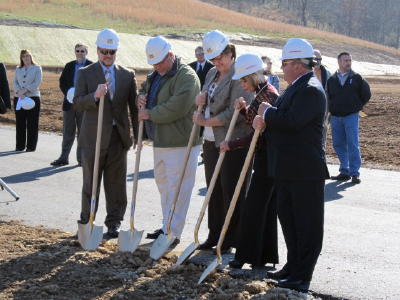 School board members shovel dirt (L to R) Steve Whited, Mike
Wilson, Faye Barnhart, Cynthia Dale, and Larry Harris
The ground was broken for the new $8.8 elementary school at Arnoldsburg Friday, with school officials, community members, and most importantly the children of the school attending.
"The groundbreaking is about the children and their future," said Superintendent Roger Propst.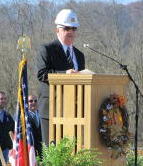 Propst (left) praised county voters for passing a levy to make the school possible.
"The project is a partnership of the taxpayers of Calhoun County and the WV School Building Authority. Today, is truly a historic day for education in our county," with the new school, finally lifting the school out of the flood plain.
School board president Steve Whited said it was an exciting day for the county to get another modern school building.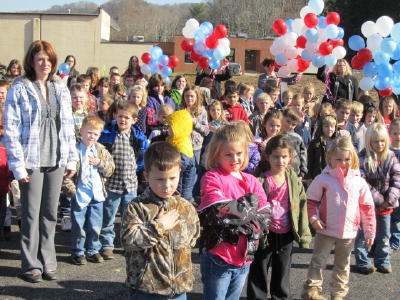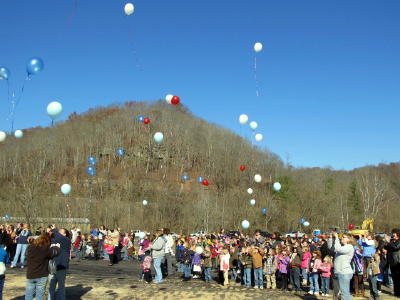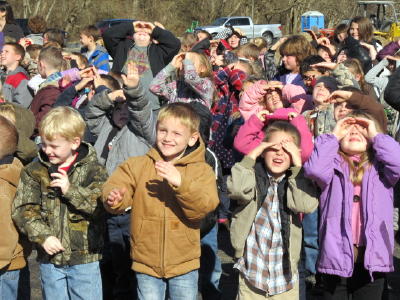 Arnoldsburg school students release
balloons, excited about dedication
Arnoldsburg school students sang for the event and participated in a balloon release. Arnoldsburg student Autumn Siers led those attending with the Pledge of Allegiance and CH-MS student Cassandra LaMont played the National Anthem on trumpet.
Arnoldsburg school principal welcomed visitors to the groundbreaking.
The project received a boost with an estimated $100,000 investment by Minnie Hamilton Health System for school-based health facilities, making the total project expenditure at $8,849.320.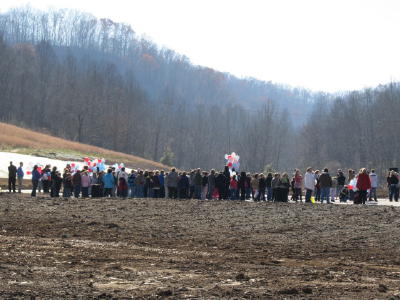 New school is a milestone for southern Calhoun
See NEW $8.8 MIL ARNOLDSBURG ELEMENTARY SCHOOL