GUN AT SCHOOL - Police say Russell E. Elswick, 52, of Clendenin arrived at Herbert Hoover High School about 5:30 a.m. where he made threats to a staff member while armed with a shotgun, allegedly saying he "had business to take care of."

Elswick has been arrested and charged with possession of a firearm on school property and making terrorist threats.

Elswick appeared to either be mentally disturbed or possibly under the influence of an unknown substance, according to police.

Reports say the suspect tried to get inside the building while the custodial and cafeteria staff were at the school, well before students and other staff members were scheduled to report.

When Sgt. K.L. White and Deputy R.D. Evans arrived at the scene, they asked the suspect to get out of his vehicle, but he refused.

Deputies said they then attempted to remove Elswick from the vehicle and it was apparently still in drive gear and lurched forward, hitting Evans.

Evans and Cpl. A.J. Miller both received medical treatment after the incident. Both officers have been released from the hospital. Miller received a fracture to one hand during the altercation with Elswick.

Deputies recovered a Remington Model 870 shotgun inside Elswick's vehicle, but said it was not loaded.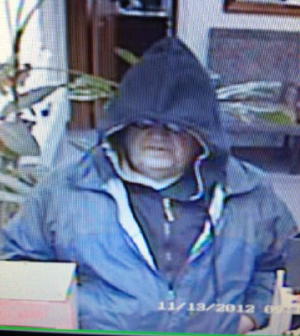 A hooded man entered the Community Bank in Parkersburg at 9:16 a.m. Tuesday and held-up tellers and left the scene with an undisclosed amount of money.
Sgt. Greg Collins with the Parkersburg Police Department provided a photo of the man (shown above) describing the suspect as an older man with hood and glasses, 5' 8" to 5' 10", 220 to 250 pounds, appearing to be in his 50's or 60's or maybe older. He was possibly wearing a blue hoody with a gray liner, a blue coat with gray accents over the hoody, white shoes and blue jeans.
Police arrived on the scene within three minutes, and began searching for the suspect.
Collins says detectives are continuing to investigate this incident. Recent robberies or suspected attempted robberies are being looked at again, in an effort to determine if this particular suspect was involved in those.
No one was injured during the robbery.