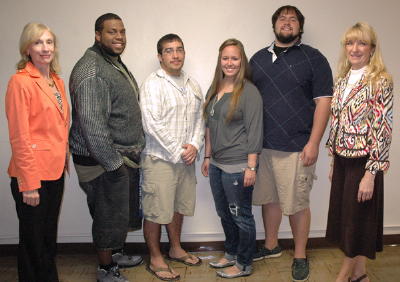 Two teams from the GSC Department of Business will be competing in the WVSCBPC semi-finals. Pictured left to right: Cinda Echard GSC Associate Professor of Vocational Business, Preston Veal, Josh Ramsey, Racheal Fetty, Caleb Greathouse (both of Roane County) and Calhoun County native Cheryl McKinney, Associate Professor of Business, daughter of Paul and Glenna Fleming of Arnoldsburg
Glenville, WV - Four Glenville State College students have been chosen as semi-finalists for the 7th annual West Virginia Statewide Collegiate Business Plan Competition (WVSCBPC). A record number of one-hundred and forty-one business plans from eleven colleges and universities from around the state were submitted for the competition.
After the pre-liminary round of the competition, the top ten plans in each of two categories, Life Styles & Innovation and Hospitality & Tourism, were invited to the semi-final round.
GSC seniors Racheal Fetty and Caleb Greathouse were selected as semi-finalists in the Life Styles & Innovation category for their business plan for 'EZ Reader.' Fetty is an Accounting and Business management major and Greathouse is an Accounting and Computer Information Systems major. The couple is from Spencer (Roane County), West Virginia, and this is the second time that they have entered the WVSCBPC. Last year, their business plan for 'Castle Media,' a graphic design company, did not make the cut to the semi-final round.
"Even though we did not advance last year, what we learned from the comments of the judges and business coaches helped us understand what we needed to do to have a more focused business plan. I think the experience from last year has improved our face-to-face presence and confidence," said Greathouse. 'EZ Reader" is a device that Fetty and Greathouse designed to read the paper audit of electronic voting machines. The first model of 'EZ Reader' has already been manufactured and tested.
"We have received very positive response from the people that have tested the 'EZ Reader.' The feedback that we have received from them has helped us with some redesign that has improved the product," said Fetty. Greathouse is the son of Bob and Sue Greathouse of Spencer. Fetty is the daughter of Steve Fetty and Barb Fetty of Spencer. "We are a good team," said Fetty. "We each have different skills that we are good at that makes us a good combination."
'Delivery 2U' is the semi-finalist business plan of the team of GSC seniors Josh Ramsey and Preston Veal in the Hospitality & Tourism Category. Ramsey is majoring in Resort Area Management, Business Management, and Computer Information Systems. He is from Gassaway (Braxton County), West Virginia but now lives in Glenville (Gilmer County), West Virginia. Veal is majoring in Business Management, Resort Area Management, Sport Management, and has a minor in Non-Profit Leadership. He is from Weirton (Hancock County), West Virginia. 'Delivery 2U' is a simple delivery service that will focus on providing delivery service for restaurants in the Glenville area.
"Most restaurants in this area enjoy their customers coming to their establishment to dine. 'Delivery 2U' will focus more on the customers' needs by giving them a big city luxury in a small town," said Veal. The entrepreneurs have already filed for a business license and hope to begin operations in the near future. "Eventually we hope to expand to other locations and broaden our delivery service to more than just the food industry. Winning the $10,000 prize would certainly help us in that endeavor. Entering the contest has already helped us make some great contacts and learn some details that we will need to make 'Delivery 2U' successful," said Ramsey. Veal is the son of Ronald and Deborah Veal of Weirton. Ramsey is the son of Michelle Goodrich of Glenville and James Ramsey of Frametown (Braxton County), West Virginia.
"This competition is such a valuable experience for all students who enter as it provides an opportunity to really apply many of the business fundamentals they are learning within the academic classroom to a very personal endeavor. Our semi-finalists are excellent representatives to carry on the proud entrepreneurship tradition from GSC in this year's West Virginia Statewide Business Plan Competition, and it is very gratifying to work with them" said Cheryl McKinney, GSC Associate Professor of Business.
The WVSCBPC is hosted by West Virginia University's Entrepreneurship Center in the College of Business and Economics. The competition affords college students around the state the unique opportunity to make a business idea come to life with the support of state institutions of higher education and seasoned business professionals from around the country.
The goal of the competition is to provide students with the education, skills, contacts, and motivation necessary to create a viable start-up company in West Virginia. Two grand prize packages, one for each category consisting of $10,000 cash, accounting, legal, and virtual or physical incubator space are awarded to the top team in each category.
The semi-final round of the WVSCBPC will be held Tuesday, November 13th at the Robert H. Mollohan Research Center on the campus of the West Virginia High Tech Consortium in Fairmont, West Virginia. Semi-finalists will give a two-minute presentation of their business plan and then be interviewed by a panel of business professionals. Five finalists in each category will be chosen to move on after judging of the semi-final round. Because they are competing in different categories, it is possible that both GSC teams could win a $10,000 award. The WVSCBPC finals will be held at West Virginia University in April.
"I'm so proud of our students and excited for their futures! They are true entrepreneurs. For many young students, the idea of becoming a business owner is a distant dream, but these GSC students have shown they have the creativity and passion needed in tomorrow's small businesses. Their innovative ideas and Pioneer spirit have earned them a prized spot in Round Two," said Cinda Echard, GSC Associate Professor of Vocational Business. In addition to the four semi-finalists, GSC senior Devon Maher of Augusta (Hampshire County), West Virginia, sophomore Haley Caron of Weston (Lewis County), West Virginia, senior Beth Snodgrass of Little Birch (Braxton County), West Virginia, and junior Boris Nimcevic of Ojai (Ventura County), California also submitted business plans for the competition but were not selected for the semi-finals.
This marks the sixth time that a Glenville State College student has been selected for the semi-finals over the seven years of the competition. GSC has been represented in five of the previous six competition finals.
Last year, Glenville State College junior Melissa Campos of Arnoldsburg, West Virginia was one of the finalists. Her business plan for 'Happy Paws Board and Grooming' included services for pet owners that would incorporate agility training, behavior modification, obedience training, grooming, and mobile grooming. She already does pet grooming on a part-time basis having learned her skills from her mother who owns and operates a pet store in Spencer, West Virginia. Although Campos did not win the competition, the experience that she received has already helped her grow her business.