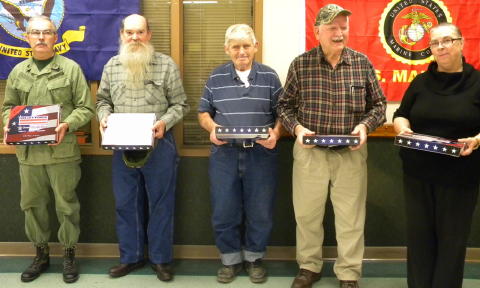 (L-R) Ken Townsend, U.S. Army (Vietnam War), Robert Cain, U.S. Marine Corp. (Vietnam War) Mick Sterns, U.S. Navy (Korean War), Lanty Jr. Gibson, U.S. Army (WWII) Dr. Kathy Jones, U.S. Air Force
The Faculty, Staff and Students of Calhoun-Gilmer Career Center honored local veterans during the school's annual Veteran's Appreciation Day, November, 7th.
The day's activity included three of the veterans telling about his or her experiences in the military at the time of their enlistment.
WWII Veteran, Lanty Jr. Gibson talked about his youth and what it was like to leave his farm/family home in Braxton County. He talked about the Battle of the Bulge and the Nuremburg War Trials. Mr. Gibson was one of the soldiers who guarded those accused of war crimes during WWII.
Vietnam War Veteran, Ken Townsend, talked about the difficulties surviving in the jungles of Vietnam and how it was similar to the hills of West Virginia. Mr. Townsend also talked about his admiration for the WWII Veterans.
Dr. Kathy Jones, U.S. Air Force Veteran talked about following in her family's military tradition, following in her father's and brother's footsteps, she joined the military to help pay for her medical education.
As one instructor stated, "It was a true accounting of history though the eyes of a soldier who lived and fought during these wars." "Our student's do not realize how lucky they are to have heard these first hand accountings by soldiers who were there!"
In addition to a luncheon catered by the career center's Prostart lab, each veteran was presented with an American Flag, in appreciation for their service to our country.