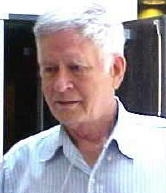 By Jack Cawthon 2012
bbqrun@hotmail.com

Another big election has come and gone. I learned a lot about elections as a little boy kid growing up at the head of a holler in Gilmer County. We looked forward to them because every two years just before the election our four miles of dirt road was graded to smoothness by the state and for a time we boasted a super highway for its time.

My dad always said the road was plowed out so that the Democrats could get out to vote. It wasn't for our benefit as we belonged to a down trodden Gilmer County minority: we were Republicans and our vote wasn't needed, wasn't wanted, and was always wasted.

I think my dad was correct in his assumption.

As I remember carpools visited throughout the county to haul voters to the polls but somehow the voters were all Democrats. But elections are soon over and so was our super highway. The first heavy rains turned it into a conglomeration of Mother Earth mud--and thinking about it, the same affliction for Republican voters.

In addition to good roads every two years we reaped another benefit. There were so few Republicans in the county that most of them were hired to work at polling places so as to at least conform to election laws requiring the proper makeup of political parties.

My dad made a little extra money as a poll worker but I'm not sure it compensated him for the emotional turmoil which he brought home with him each time.

There were always election irregularities which seemingly only the Republican poll workers noticed. When they raised enough stink the sheriff was called out, but guess which political party he represented. He would do a cursory look around and, I assume, caution "the boys" not to do it again and then he sauntered off.

I also benefited from the election.

My dad would always bring home for me a pencil used to mark the paper ballots. It was a special kind of pencil, no eraser. (If you voted the straight ticket, few undecided voters back then, one wasn't needed.) The string would still be attached which had anchored it. I guess that was my dad's way of treating me and at the same time feel that a Republican could gain something from the election.

Just think: if I had saved those pencils they might be sold to collectors today as they marked many a ballot for Franklin D. Roosevelt, not one of our favorite office holders at the time.

I didn't know it then but we represented the political party of the rich. Only in later years have I been reminded by some good Democrats of that time, after my whining over not receiving anything from FDR's New Deal except a state-of-the-art outhouse, that we were actually wealthy and not deserving of New Deal handouts.

We had two gas wells on our property that paid out $600 a YEAR. We had free gas for lights and heat, a Model A Ford car, and as a sure sign of wealth a battery operated radio that we kept going with the aid of a battery charger my dad converted from a junked Model A Ford engine, running it on the free gas. Hey, no wonder we were in the Romney party of today.

However, those same neighbors who have labeled us were benefiting from the patronage system which favored only Democrats. Most had a job on the state road or served in county positions.

Alas, our super highway lasted only a short time. After the first heavy rains usually the McCall Drilling Co., which had several wells in the holler, would move in with heavy trucks and we soon were riding deep ruts again. My prized pencils would become lost or the lead broken and we could only look forward to the next election.

After I began to enter book learning I discovered perhaps the real reason we were Republicans and it had nothing to do with wealth. One can pretty well look at the party makeup of counties and determine who favored the North or South in the Civil War.

Republicans were generally loyal Unionists; Democrats leaned the other way. My great granddad was gunned down fighting for Mr. Lincoln. Therefore, I assume we inherited his legacy, although I wouldn't rule out that we may have been a tad rich back then but no where close to Mr. Romney's standards of today.

In fact, we could have represented, and welcomed, his free-loading 47 percenters of today if only the Democrats would have allowed us to some government benefits.

But time passes.

I seem to always run my life in reverse, maybe because I was devoted to the writings of L. T. Anderson of the Charleston Gazette whose column was titled "In Reverse."

Some years ago, living here in Monongahoochie County, Pennsylvania South, we Republicans were always given a primary election ballot that was mostly blank, as few Republicans made the futile effort.

I always felt that there should have been a place on the ballot for Republicans to write an essay stating why they were so stupid to register that way. The winner might have been given a tour of the courthouse, so some equal award.

So, I did the once unthinkable: I became a Democrat.

Oh, the humanities!

I'm sure my relatives are rolling in the graves, never expecting me now to reach eternal bliss. And you know what? I enjoy the party. As I often say, the Little Woman (5 ft., 1 in.) is the sociable one of the family as I become ever more over time the socialist.

It may be that growing up rich left something amiss with me. Look at Jay Rockefeller. He was once a, gasp, Republican.

Hey, Jay baby, how 'bout a thumbs up! We all make mistakes!