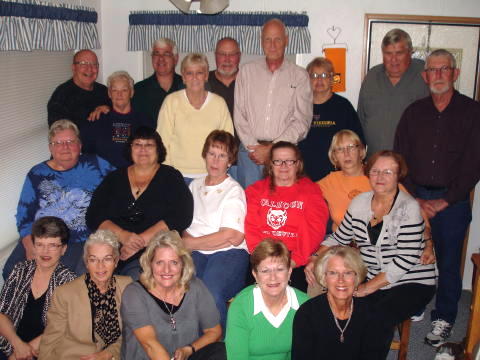 Front (l-R) Patty Sullivan Mowrey, Linda Ward Sampson, Becky
Ayers Polis, Linda Bailess Blankenship, Jenny Yoke Morris;
Center (L-R) Chlouris Jarvis Conley, Bessie Yoak Welch, Mary Reed
Mullenax, Jeanette Burrows Richards, Charlotte Siers Westfall,
Georgia Basnett Stalnaker; Back (L-R) Charlie Bollinger, Patty
McCartney Bollinger, Joe Westfall, Norma Cottrill Shartiger, Tom
Fluharty, Donnie Pitts, Liz Bates Ferrell, Loy Badgett, Danny Smith
Calhoun County High School's graduating class of 1967 held its 45-year class reunion last weekend. Classmates gathered at the home of Bob and Georgia Stalnaker for an afternoon of sharing and fellowship.
Those in attendance looked at the yearbooks, school pictures, family photos, remembered deceased classmates, and enjoyed catching up on events of past years.
Thanks to Jim Bell for donating a hand-carved wooden vase for a door prize which was won by Linda Ward Sampson. "For those who couldn't attend, we missed you and hope to see you at our 50th reunion," said Georgia Stalnaker