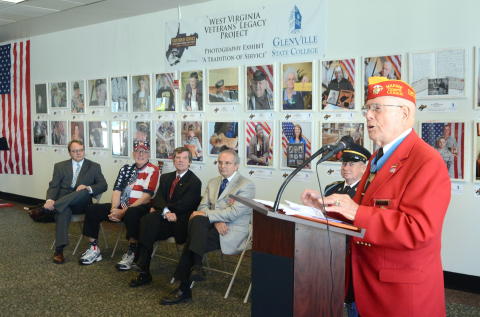 Medal of Honor recipient Woody Wilson (right) of Marion
County West Virginia speaks at the opening of The West Virginia
Veterans' Legacy Project photo exhibit at Yeager Airport
Glenville, WV - Glenville State College's West Virginia Veterans' Legacy Project's photography exhibit, 'A Tradition of Service,' is now on display in the GSC Fine Arts Gallery. This stunning thirty-six-piece show made its debut at Yeager Airport in Charleston, West Virginia where it hung in the baggage return area for a month.
"It has been an excellent exhibit that has had many positive comments! I know that many of our staff and travelers found it very interesting and enjoyable. Yeager Airport was proud to be the host of the exhibit's debut," said Rick Atkinson, Yeager Airport Director.
The show primarily features photos of living veterans from World War II and through subsequent conflicts up until the present. The photos were taken by award-winning professional photographer Mark Romano, a GSC alum. Veterans from the West Virginia Veteran's Nursing Facility in Clarksburg, the VA Hospital in Beckley, and numerous other regions of the state are featured in the show.
"I have been all over this world and have seen many tributes which were all great. I went to Yeager Airport to see this exhibit and must say that this is absolutely the most honoring display I have ever seen. Thank you for what you are doing to honor these heroes," said Eric Grandson of Ovapa (Clay County), West Virginia.
The grand opening of 'A Tradition of Service' in the GSC Fine Arts Gallery will be held on Monday, November 5th at 5 p.m. Music will be provided by George Daugherty (The Earl of Elkview and The Duke of Dunbar), a well-known West Virginia musician and veteran who is participating in The West Virginia Veterans' Legacy Project. Photographer Mark Romano will also be in attendance. Light refreshments will be served, and the event is open to the public.
The project's first book Heroes Among Us, a collection of photographs, both new and old, with succinct vet quotes and short stories will be also be available for the first time at the November 5th event. The book will normally sell for $20 but will be sold for just $10 at this grand opening event.
Also featured outside the gallery will be a traveling display panel which will include photos, text, and a video loop about the project. This display will be available for smaller venues and spaces such as business lobbies, city halls, veteran meeting places, and festivals around the state that would like to feature The West Virginia Veterans' Legacy Project.
The photo exhibit will hang in the GSC Fine Arts Gallery through December. The gallery is open from 10:00 a.m. to 2:00 p.m. Monday through Friday and one hour prior to all special events in the Fine Arts Building.
'A Tradition of Service' is scheduled for a stop at the Beckley Veterans Administration Hospital in early 2013. The traveling photo exhibit will be available at no cost to museums, art galleries, colleges, and all other appropriate venues.
For more information about the GSC West Virginia Veterans Legacy Project, visit www.glenville.edu/veterans or contact: Baber at Bob.Baber@glenville.edu or 304-462-4125 or Project Leader Jason Gum at Jason.Gum@glenville.edu or 304-462-6163.