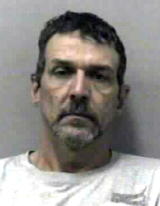 West Virginia State Police, Grantsville Detachment, arrested at least two individuals in a household Monday evening related to the operation of a meth lab.

State Police went to a rural area on Walnut Rd. known as Walnut Hill and arrested Richard Herman Blake, 46.

Blake (left) is incarcerated in Central Regional Jail and is being held on the felony charges with bond at $75,000.

State Police arrested Felicia Jarvis, 28, also charged with conspiracy related to meth making and exposure to children, after the couple gave consent to search the residence. State Police assisted by Grantsville Police Chief Andy Walker.

Blake is charged with conducting/being in possession of a clandestine methamphetamine laboratory, conspiracy and exposing children to methamphetamine, according to a complaint.

Blake and Jarvis told police they had smoked meth over the weekend, according to the complaint.

Blake also admitted to purchasing pseudoephedrine and conducting the lab.

Two children, ages 6 and 7, have been removed from the home by Children's Protective Services.