Story and Photo by Drew Moody

The Tayac Territorial Singers and Dancers performed last week at Glenville State College's Fine Arts Center.

The performances are a celebration of the culture of Native American people, the group's founder, Mark Tayac, said.

Drumming, singing an dance have an ancient tradition in all Indian cultures -- used in celebration, communication and religious ceremonies.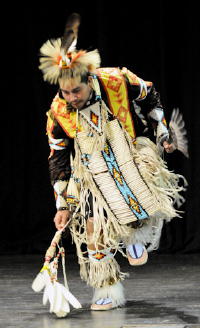 "The drum represents the heartbeat of life, and our elders have always told us as long as we keep the drumbeat alive our culture will survive," Tayac said.
"Our culture is still alive. It didn't die in a John Wayne movie."
The past several decades have seen a resurgence of Native American cultures throughout the worlds, particularly following the civil rights movement in America.
"We all breathe the same air, drink the same water and live on the same Mother Earth," he said. One of their goals is to "create bridges of understanding" with all people.
The Tayac Territorial Singers and Dancers have performed throughout Mexico, the U.S., Canada and Europe.
PISCATAWAY TRIBE'S LONG HISTORY
The Piscataway people have a documented history in the Chesapeake Bay region of Maryland dating back at least 15,000 years, according to Mark Tayac.
The principal city of their ancestral homeland was located directly across the Potomac River from George Washington's home, Mount Vernon.
In January, Maryland governor Martin O'Malley signed an executive order officially recognizing the Piscataway Indian Tribes -- the first to receive such a designation by the state.
During the ceremony Governor O'Malley read from a Jesuit priest's journal recounting an early 1700s visit with the Piscataway Indians.
"They are," he wrote, "a people of a frank and cheerful disposition,…who offer us what they have taken in hunting or fishing,… In sum, they have generous natures, and (return) any kindness shown (to) them."
In spite of this, the Governor acknowledged that spirit was not reciprocated by European settlers.
"Sadly we know from the tragic aspects of our history, this generous spirit, this deep instinctive sense of human brotherhood was most often betrayed by the cruelty and the misery brought by a stranger's hand," Governor O'Malley said.
The Piscataway Indian Nation has yet to receive federal recognition by the Bureau of Indian Affairs according to a Capital News Service story published recently.