The public is invited to take a fall historical driving tour on Sunday, October 21, 2012 from 1-4 p.m.

The tour includes 6 of the oldest buildings and locations in the Elizabeth, Parkersburg, and Mineral Wells area.

Cost for the entire tour is $ 5 per person and tickets can be purchased at any of the locations along the tour route. You can then use the ticket at all the 5 other locations.

The tour is sponsored by the New Era School and the Centennial and Elizabeth Beauchamp Chapters of the Daughters of American Pioneers.
The New Era School House Museum (above) is a restored 1884 one-room school. Experience a school day with Patty Cooper portraying the school marm. The school has maintained the integrity of its time with original desks, pot-bellied stove, slate chalkboards, oiled floors, pump, outhouse, and coal shed. Additional items make the schoolroom appear ready for Reading, 'Riting, and 'Rithmetic. The school is located at 1838 Elizabeth Pike, beside Mineral Wells School in Mineral Wells, WV.
The Cooper Cemetery is a family cemetery on property that was originally owned by Henry and Lydia Cooper who came to Wood County around 1800. The cemetery is located on Mason Drive at the top of the hill just past the New Era School in Mineral Wells, WV.
The McClung-Morgan House is one of Wirt County's early homes built by Dr. Park Walker McClung and his wife, Kate Nuzum McClung. Visitors will be able to experience the beautiful craftsmanship the home offers. On display will be Dr. McClung's WWI military uniform, photos, and military and medical items from his time as a surgeon in the Medical Corps in France. Sherry Smith will be portraying the young Kate Nuzum as she gives the tour of the home. The house is located at 423 Market St. in Elizabeth, WV.
Sweet Briar Antiques and Treasurers is an antique and primitive gift shop located in a historical home in Elizabeth, WV. The pre- civil war home was built by Lawyer, Robert A. Brown about 1859. The house is located at 672 Court St. in Elizabeth, WV.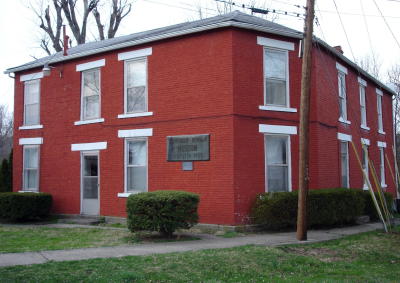 The Beauchamp-Newman Museum (above) was built around 1835-40 by Alfred Beauchamp, grandson of William Beauchamp, the first settler in this community. Items displayed include a piano and desk belonging to the Beauchamp family. Other items include a cradle, rope bed, 1800's copper bathtub, dolls, cobbler's bench, weapons, Indian artifacts, glassware, old cooking utensils, mannequins in costume and rooms of period furniture. Now on display are military items from the Cale, Roberts, and Monroe families. The museum is located behind the courthouse on Court St. in Elizabeth, WV.