Submitted by Dan Cosgrove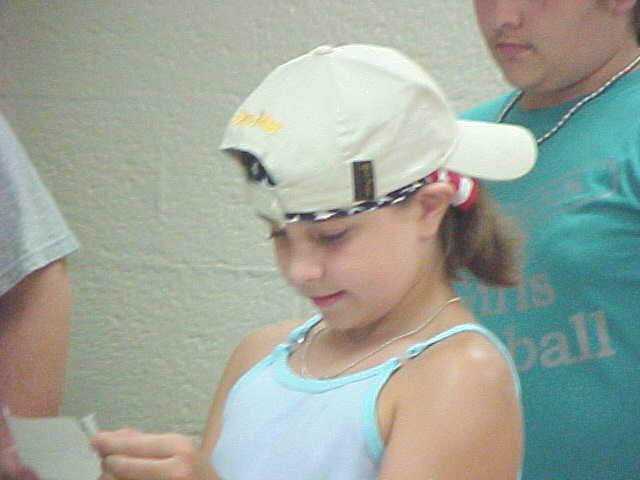 Arnoldsburg Summer Academy is pleased to announce Meghan Chriswell has been selected as "Volunteer of the Week" for the period of 8 - 12 July 2002.
The volunteers were given just the most rudimentary "idea" of creating a café where students could sit in a relaxed atmosphere reading their favorite books or putting on skits while sipping lemonade. Meghan took the ball and ran with it. She spearheaded the group, making detailed plans for decorations, skits and refreshments. Meghan even organized an evening cupcake baking session. She is also our official photographer.
Meghan is firm believer of Community Service. With Arnoldsburg Summer Academy's theme being "building character," Meghan is the perfect role model, showing all the positive traits of a person of the highest character-she is responsible, caring, respectful and trustworthy.
Meghan is visiting relatives in the Chloe area and hopes to move here soon-we hope she does too! She will enter seventh grade this fall. She is a great kid and we are happy to have her as part of the team. Way to go Meghan!
500 Books!
Arnoldsburg Summer and Kinder Academies have set a combined goal of reading 500 books during their 5-week program. If they meet that goal something nasty happens to me-all I will say is it has something to do with outdated eggs! As the first week went by, I wasn't too worried; they were well short of the 100 books they should have reached. After the second week, they were still short of the mark but getting closer. At the halfway point (2 and ½ weeks), they had read 249 books, just one book shy of where they should have been. Since then, it has gotten crazy. Our 24 hours without television resulted in about 70 books being read that day and now it seems everywhere I look I see kids with a book in their hands. They also walk by me with a gleam in their eyes, a knowing smile, and a comment along the lines "we're going to get you!" It is downright scary! Students have to fill out a form for every book they read and list the title, author, and summary. These forms are coming in constantly and to make matters worse even a couple parents have started reading and filling out those forms.
Parents, I don't want you to think I'm getting scared, but it's time to stop the madness. I ask you, do we really know reading is good for children? I looked at the data and found disturbing news. Scientific research from a secret laboratory just outside Timbuktu, deep in the Sahara Desert, has shown reading causes both health problems in the toes, and a phobia of head coverings. Two hundred and fifty rats were forced to read Dr. Suess's Cat in the Hat. All 250 of them developed ingrown toenails and an intense fear when walking past hats. Do you want his to happen to your love ones? Of course not! Put the books away! Break out the video games! Watch television! Excellent educational shows can be found on many of the channels available thanks to cable and satellite TV. Take TV Land for example. Think of the educational values of shows like Gilligan's Island, The Beverly Hillbillies, and my personal favorite, The A Team.
Please don't think that I'm saying any of this because the students are getting closer to their goal and are going to "get me!" It has nothing to do with it and it has nothing to do with Sav-a-Lot in Spencer saving all their out-dated eggs. I am thinking of their health and well being-and that's no yolk, I mean yoke, I mean joke.
"Stop the madness, playgrounds are for playing not for reading!"