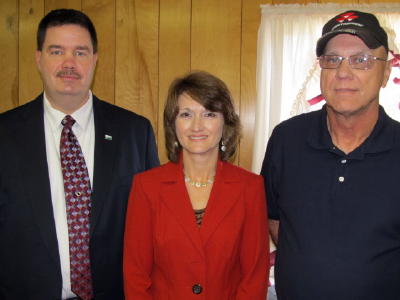 (L-R) Alan Harris, Virginia McDonald with the
USDA and Dale Cunningham with Pleasant Hill PSD
By Bob Weaver
The Pleasant Hill Public Service District (PHPSD) held a groundbreaking ceremony Thursday for the Kite Knob Water Storage Tank Project.
USDA Rural Development Director Alan Harris said, "Our agency is once again pleased to be a part of a project that will improve the quality of life for residents of rural West Virginia."
The project was loan and grant funded at $750,000 through USDA-Rural Development, essentially using federal stimulus money (American Recovery and Reinvestment Act).
In addition to the 100,000 gallon tank, the project includes 3,400 feet of eight inch line to connect to the main line.
The PHPSD routinely experiences service outages due to main line water ruptures, of particular concern is service to the Pleasant Hill Elementary School.
Much of the ruptured water line issues are likely linked to the initial laying of the line.
"This project will provide a safe and reliable source of drinking water for rural households and Pleasant Hill Elementary School," said Harris.
The Kite Knob water tank will provide a greater degree of reliability for the entire system, according to Dale Cunningham with the PSD.
The PHPSD provides water service to approximately 660 households and businesses located in the northern portion of Calhoun County and the Smithville area of southern Ritchie County.
The District is in the process of initiating the construction of a water extension to serve approximately 45 homes in the community of Beatrice located west of Smithville on WV Route 47.
This project is financed with Small Cities Block Grant funds that have been awarded to the Ritchie County Commission.
Through the years the PHPSD has received numerous requests for water service and as a result, they are aggressively pursuing funding for a project that would extend public water to the Leaf Bank, Upper Back Fork, Leading Creek, Norman Ridge and Annamoriah areas of Calhoun County.
"The PHPSD would like to thank existing customers for remaining patient the past few months while the staff has been diligently working to repair waterline breaks causing service interruptions," said Cunningham.
Harris presented the PHPSD with a certificate of congratulations for the commitment and dedication of their agency, including the Calhoun Commission and the local community for pushing the project.