In conjunction with Pioneer Day in Elizabeth, WV, over 200 visitors got a rare peak on Saturday, October 6 into the lives of Dr. Park Walker McClung, his wife Kate Nuzum McClung and their four children, who lived in a stately brick home along Court Square. Dr. McClung was the physician for Wirt County in the early 1900's and served in World War I as a Captain in the Army Medical Corps from July 1918 to May 1919.

The home was built circa 1903 by Dr. McClung and has recently been named the McClung-Morgan House by current owner, Richard Lowe. Lowe is working to get the house placed on the National Register to honor the McClung family as well as the Morgan family who purchased the house in 1975 and maintained it historical integrity during major renovations in 1976.

Sherry Smith, a local historical interpreter, who portrayed Kate McClung, led tours all day Saturday at the home, and took participants back in time to Dr. McClung and Kate's life there from 1900 through the 1940s. Smith said, "We hope to bring awareness of the importance of these two people in the life of early Wirt County."

Two of the surviving grandchildren of the McClung's have donated many items belonging to Dr. McClung and Kate for the purpose of sharing the story of their lives. They graciously want to see their grandparent's home be presented for historical tours. Some of the items are military pieces used by Dr. McClung during World War I, medical items he used in his practice in Wirt County, several letters and post cards he wrote to Kate while he was away at war, and McClung and Nuzum family photographs.

Betty Hulscher Peters, of Enola, PA, granddaughter of Dr. Park and Kate McClung, has been instrumental in bringing items back to Elizabeth, where she lived as a young girl and spent many happy days in the home.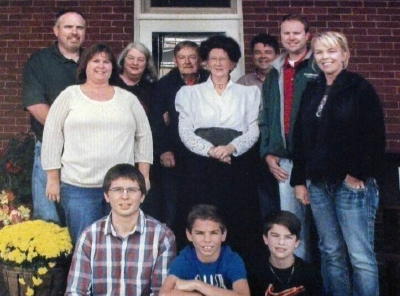 Mike McClung and family of Barboursville, WV
A very special guest at the premier of the McClung-Morgan House was Dr. McClung and Kate's grandson, Mike McClung from Barboursville, WV, his wife, their two children and their children. Mike had not been in the home for over 35 years and he was truly taken aback with the authenticity that Richard and Sherry had created on the tour which showcased the McClung's daily life in the home. Like Betty Peters, Mike has been a huge contributor of items belonging to his grandparents. "We could not have done this without their help", said Smith.
A Christmas tour featuring "Tea with Kate" is planned for Sunday, December 2, 2012, and will depict what Christmas of 1918 was like for Kate and her family while Dr. McClung and the many U.S. soldiers spent Christmas in the trenches of France during the war. For more information about "Tea with Kate" call 304-275-0807.
See related story PIONEER DAY VISITORS CAN TOUR ELIZABETH'S MCCLUNG-MORGAN HOUSE: